Much has been written about the death of traditional brick-and-mortar retail shopping centers, succumbing to the rapid expansion of e-commerce. Apparently, the end of retail malls as we know them is so certain that their demise can now be tracked at deadmalls.com. And, to be sure, we have seen an uptick in mall closures recently, especially under the pressures of the nationwide Covid-19 shutdown. But that narrative overlooks the transformative measures shopping center owners across the country are employing to respond to consumers' demands for experiences and entertainment and move the industry into a hybrid form of commerce where shoppers can experience the best of both the physical and digital worlds of retail shopping.
A brief history of the shopping center's evolution shows that like all commercial and residential real estate, successful shopping centers adapt to the cultural, demographic and generational changes of the time to stay relevant. From the small, suburban strip mall configurations in the 1950's to larger enclosed shopping centers in the 1960's, malls thrived for decades. Beginning in the 1980s and 1990s shoppers wanted more and malls responded by enhancing the shopping experience with experiences and entertainment. Popular restaurants, movie theaters, food courts, children's features and other types of service and entertainment venues were incorporated into shopping centers and they continued to thrive.
Today shopping centers face new challenges driven by technology and the preferences of the millennials and Gen Z'ers generations. These younger cohorts prioritize experiences over material things and are inextricably tied to the internet. Prior to the pandemic, e-commerce sales were expanding rapidly in market share, driving foot traffic down in stores and shopping centers. Between 2010 and 2019, e-commerce penetration grew 150% to 16% of the total retail sales.
US E-commerce Penetration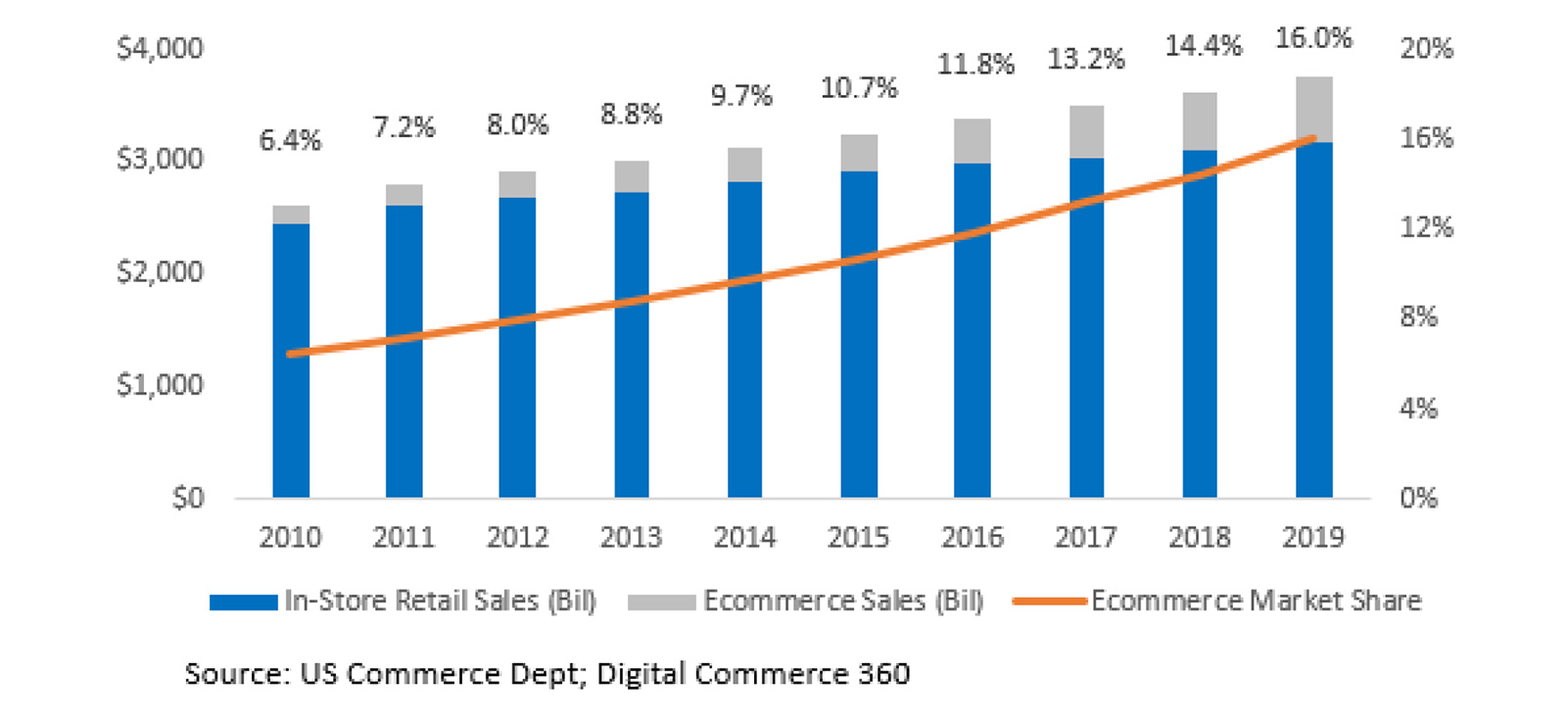 Since the COVID-19 stay-at-home order this spring, that trend has accelerated.
To meet these challenges, many shopping center operators are exploring innovative ways of expanding their business model to incorporate online options for their retailers and shoppers to blend the bricks-and-mortar and online retail experience and maintain connectivity with consumers both onsite and off premises to provide alternative e-commerce options. Through sophisticated websites and digital interfaces, shopping centers are fast becoming true e-commerce players and driving increased foot traffic. A recent report from the International Council of Shopping Centers1 provides an extensive account of many of the measures mall owners are using to bridge the gap to e-commerce. A few examples follow:
Westfield Corporation Owner of 35 shopping centers in the U.S. and United Kingdom, developed its own app that provides a product search feature that allows shoppers to search for a specific item, review the product information and pricing, find out which retailers in their malls have the item in stock and "click to call" the store to purchase the item and either pick it up or have it delivered. Several of its properties also offer same-day delivery.
Simon Property Group The largest shopping mall operator in America, has outfitted its properties with "beacons," compact, inexpensive Bluetooth transponders for continuous connectivity, that send out information of sales and other types of offers from retailers in the mall directly to shopper's smartphones as they are walking through the mall. These transponders also transmit digital directories, information about mall events and concierge services.
Kimco Realty Corp A real estate investment trust that owns interests in 401 shopping centers developed a "Clicks to Bricks" program that offers online retailers a year of rent-free tenancy and a personal business counselor to assist the retailer set up shop to experience bricks-and-mortar operations. After the free year of rent, the retailer has the option to exercise a four-year extension at a pre-negotiated lease rate.
Expanding on the experiential and community "town square" trends, shopping centers are creating unique uses for mall space to enhance the "destination" experience for the consumers, retailers and the community. For example, the new Liberty Center in Cincinnati incorporates a variety of public spaces including a dine-in movie theater, a comedy club and a children's museum-quality discovery center. Many malls are adding other life-style additions such as fitness centers, barber shops, healthcare retail clinics and general-purpose flex space available to community organizations for meetings and events. Large, open-air malls are adding family park areas and regular seasonal concerts. The shopping center is evolving into an important part of the cultural life of surrounding communities by delivering a place where people want to go for more than just shopping.
Many mall retailers are responding to the rapid delivery service provided by online retailers by reconfiguring their store footprint to include dedicated fulfillment space. This gives the shopper the ability to buy online and pick up in the store or, at many locations, through curbside delivery. Macy's is a prime example of the success of this business model as it shipped over $1 billion in merchandise from its in-store fulfillment network to customers last year. The Macy's fulfillment network includes all 800 of its stores. Gap, Inc. has also created a similar distribution system for all Gap, Banana Republic and Athleta stores. This model allows retailers to provide shoppers same-day in-store delivery with no shipping charges.
As we watch the current evolution of today's shopping center, there are basic shopping habits, behaviors and preferences that bode well for the industry. A recent study by JLL2 reports that 82% of millennials prefer to shop in stores after browsing and researching products online. And once in the store, a 2019 survey by FirstInsight3 found that 71% of shoppers spend more per in-store visit than when shopping online. When picking up an online purchase in-store, 23% of customers purchase additional items and 20% of consumers who return on online purchase to a store make additional purchases while onsite. So clearly there remains a strong demand for brick-and-mortar retail.
Successful shopping centers have transformed and adapted to cultural and generational changes and demands for decades. Over that time, the industry has shown its exceptional resiliency. Today, the industry is evolving both physically and digitally to provide the complete "destination" experience consumers are looking for. It appears that, Like Mark Twain, the reports of the death of retail shopping malls, "…are greatly exaggerated."
Provided By
Kidder Mathews Research
KMResearchGroup@kidder.com
Written by John Fioramonti
Sources
1 "The Future of the Shopping Center Industry," Envision 2020 Report, International Council of Shopping Centers, 2020.
2 "The Future of Retail is…" JLL, https://www.us.jll.com/en/newsroom/the-future-of-retail-is-not-exactly-what-you-might-think, 2019
3 "The State of Consumer Spending: In-Store Impulse Shopping Stands the Test of Time" FirstInsight, https://www.firstinsight.com/white-papers-posts/the-state-of-consumer-spending-report, 2019