Prior to the COVID-19 pandemic, the data center market was on a solid growth trajectory, in sync with the increasing use of smart technology and digital commerce. Retail e-commerce grew 72.6% between 2015 and 20191 while online grocery sales increased 117% in that same time.2 From smart cars, televisions, thermostats, laptops, tablets, homes and phones, the use of smart devices-called the Internet of Things (IoT)—is accelerating at such a rate that the International Data Corporation recently estimated that by 2025 there will be 41.6 billion IoT devices—a nearly 500% increase from today's 7 billion devices–connected to the internet generating 79.4 zettabytes of data.3
The addition of the coronavirus pandemic in the first quarter of this year turbocharged digital demand as nationwide lockdown orders drove online shopping, remote working and content streaming to unprecedented volumes. Between March and August, online sales exceeded $2 billion per day for 130 days.4 Last year, excluding the holiday season, there were only two days that saw that volume.5 Online content streaming (primarily video streaming) jumped 60% since the beginning of the pandemic driving 15.8 million new subscribers to Netflix and 22 million new subscribers to Disney+.6 Video meetings necessitated by remote working exploded Zoom Video Communications growth, jumping from 10 million daily zoom meetings in December, 2019 to more than 300 million daily meetings in April. That translates to an increase from 100 billion meeting minutes in January to two trillion meeting minutes in April, an increase of 1,900%. And according to a recent report from Frost & Sullivan, the pandemic will drive a 64.3% increase in demand for internet telehealth services.7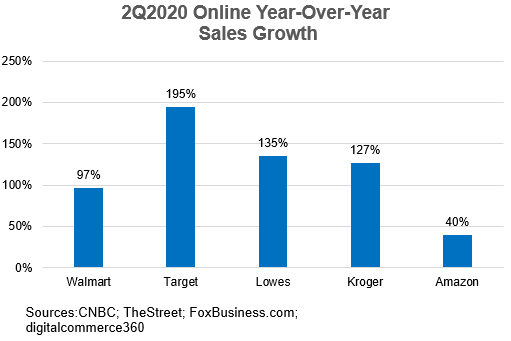 The impact of this sudden explosion of digital demand affects every aspect of data centers' operation. The demand for more data centers and the resources to operate them is rapidly accelerating as data consumption grows. Datacenter Hawk reports that in the first half of 2020, the top 15 data centers in America added 423 megawatts of commissioned power,8 2.4% more than were added in all of 2019. Investors have taken notice. A recent review of the performance of 128 REITs through the end of the second quarter found negative performance in all sectors except data center REITs, that saw a 15.3% increase in the average stock price.9
Kidder Mathews West Region Markets
The major data center markets in the western states marketed by Kidder Mathews are experiencing the same expansion seen throughout the country. In the 24 months between the second quarter, 2018 and the second quarter, 2020, commissioned power usage jumped 23.9%, with the region's smallest data market, Portland, experiencing an increase of 106.9%. There is currently more than 365,000 square feet of data storage space under construction to service an additional 55 megawatts of new commissioned power usage. More than 12 million square feet of data storage space is planned in the region to accommodate the expected demand for 2,355 megawatts of commissioned power by 2025. A deeper look at the individual markets follows: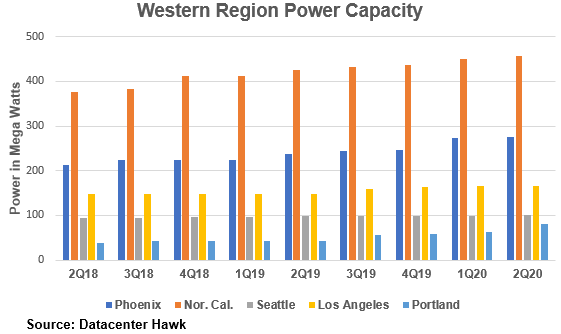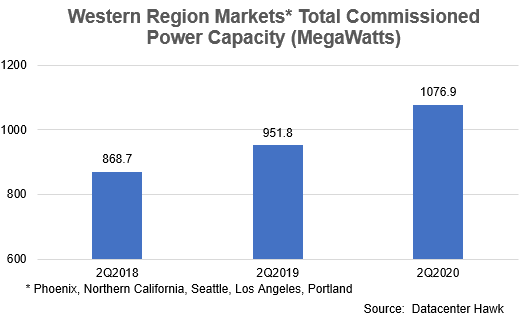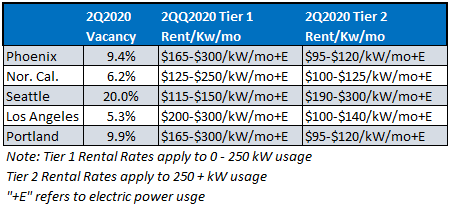 Phoenix
The Phoenix market's relatively low power, real estate and business costs, especially when compared to the Los Angeles and Northern California markets, is a major attraction for data center users and operators. In addition, the Phoenix metro area is considered a disaster recovery market due to its low probability of natural disasters.
Power costs in Phoenix are well below the national average. The diverse fuel mix employed by the Phoenix power companies that includes hydroelectric and solar allows the delivery of low-cost electricity, a major consideration for all data center stakeholders.
Arizona offers aggressive tax incentives to attract data centers to the Phoenix market. Arizona offers a ten-year waiver on state, county and local sales taxes on both equipment purchases and labor services that can be increased to twenty years if the data center qualifies as a Sustainable Redevelopment Project. Tax incentives combined with the low operational costs and the low probability of natural disasters work to attract small and large data center users as well as hyperscale users such as Amazon to the Phoenix data center market.
Phoenix currently has 1,980,183 square feet of data center space in service with over 8,826,500 square feet planned, the second most planned data center capacity in the country. Currently, there are 141,000 square feet under construction.
Driven by the pandemic, Phoenix data center users increased power use by 27.2 megawatts in the first half of 2020, an increase of 215.9% over all added megawatt power in 2019. This increase drove vacancy down 90 basis points in the first half of the year to 9.4%.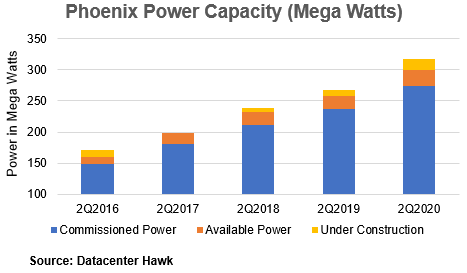 Northern California10
Despite lengthy and expensive permitting and approval processes, expensive land and power costs and risks of earthquakes, Northern California is the second largest data center market in the country. This is attributable to the high demand for data storage from companies located in the area. Much of the growth of this market has come from the tech industry in Silicon Valley.
In addition to technology, the telecom, healthcare, financial and retail industries are active in this market. However, the market's heavy reliance on the tech sector poses a substantial risk should the tech sector decline.
Although reliable, power in this region is extremely expensive as the result of the renewable "green" power sources used by the power providers, increasing the total cost of a data center's operations and ownership. These high costs often drive data center users to Portland or Seattle where they typically spend two time less for power.
Northern California currently has 3,173,223 square feet of data center space in service with over 1,675,966 square feet planned, and 124,833 square feet under construction.
Northern California saw robust expansion in 2019, increasing power use by 39.16 megawatts. This year's new usage is up 22.4 megawatts through the second quarter. Year-over-year, vacancy in data center facilities dropped 50 basis points to 6.2% as of June 30, 2020.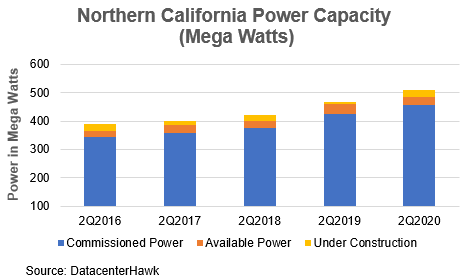 Los Angeles
The same development challenges experienced in the Northern California market—land availability, land costs and drawn out approval and permitting processes—are present in the Los Angeles data market. Extremely high average electrical rates and an ever-present seismic threat are additional downside factors for this market. But despite these obstacles, Los Angeles enjoys a robust data center market, with occupancy typically at 95% or greater. Data center hubs are in downtown Los Angeles, Irvine and El Segundo.
Most of the demand in the Los Angeles market comes from companies located in Southern California. The expansion of the entertainment industry in video gaming, online streaming and internet delivery has driven Los Angeles data center market growth. Other industries active in this market include financial, healthcare, media, technology and telecommunications.
Connectivity is a major demand driver in the Los Angeles data center market. The region boasts a strong fiber infrastructure and is a long-haul fiber termination point for lines running coast-to-coast. Connections between Los Angeles, South America, Australia and Asia are available through multiple undersea cables that anchor in Los Angeles.
Los Angeles currently has 1,689,934 square feet of data center space in service with only 151,000 square feet planned, and 19,000 square feet under construction.
Limited space and available power have stunted market growth in Los Angeles. In 2019, power usage increased 16.14 megawatts after a flat year in 2018. Through the second quarter of this year, only 1.25 megawatts have been added to commissioned power in Los Angeles. Despite the minimal commissioned power usage added this year, year-over-year, vacancy in L.A. data center facilities dropped 190 basis points to 5.0% as of the end of the second quarter.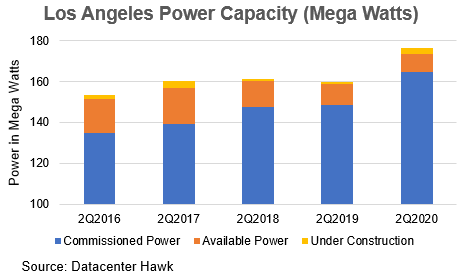 Seattle
The data center market in Seattle is growing thanks to several factors. Seattle is a hub for cloud computing and colocation businesses. Hometown tech giants Microsoft and Amazon have benefitted the entire metro area with their large cloud infrastructure investments. Seattle's sophisticated international connectivity system together with its relatively low power costs are attractive to data center operators and data center users alike.
Seattle's high-tech economy is one of the largest in the country with over 850 tech companies contributing more than $3.5 billion annually to Seattle's economy. Seattle is also home to large corporations with data-driven businesses such as Costco, Zillow, Expedia and Starbucks. Such a high concentration of tech-centric businesses together with Seattle's high-performance connectivity make Seattle a strong market for data center operations.
In addition to the numerous local data center consumers, Seattle is a termination point for undersea cables linking America to Asia. This makes Seattle a link for IP traffic coming from Vancouver, Beijing, Seoul and Tokyo. Companies utilizing data centers in the Seattle market include those in the aerospace, financial, healthcare, technology and transportation industries.
Seattle currently has 973,652 square feet of data center space in service with another 9,000 square feet under construction and 465,000 square feet planned.
With all its advantages, the Seattle market has been slow to expand, adding only 1.7 megawatts of commissioned power in 2019 and 2.3 megawatts of commissioned power this year. With more than 154,000 square feet currently available, it is unlikely that Seattle's vacancy rate of 20% will see any downward movement soon.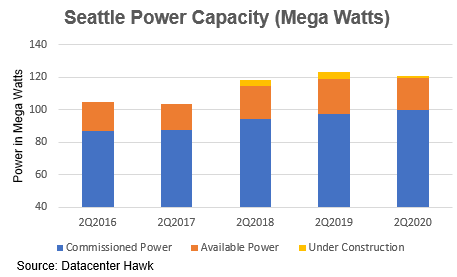 Portland
While Portland is now the smallest of the major data center markets in the region, it will most likely outgrow that status soon. A growing tech sector, an outperforming economy, low power costs and heavy data center tax incentives have put Portland on the radar of data center operators and users. The main data center development has occurred in the Portland suburb of Hillsboro, spurred by heavy investment in the area by Intel. Oregon's lack of a sales tax coupled with some of the strongest data center tax incentives in the country spurred the building of large data centers in the suburbs around Portland.
Electricity costs in Portland are low when compared to the other West Coast markets. Intel has been involved in Portland since 1974 and has made large investments in building the city's electric infrastructure. Portland General Electric can provide low cost power due to its five hydroelectric power plants.
For a smaller market, Portland has an extensive connectivity network. Heavy investments by major data users like CenturyLink and Integra have enabled the city to provide high-tech fiber optic cable downtown and in the suburbs. CenturyLink has also installed gigabit ethernet connection throughout the downtown core. Portland is also part of several long-haul routes that connect the West Coast from Vancouver to San Diego. Finally, Portland is connected to several submarine cables providing connectivity to Australia, New Zealand, Japan, China and South Korea.
Portland currently has 464,283 square feet of data center space in service with just over 74,000 square feet available. There is currently 71,300 square feet under construction. Optimism about the future of this market is reflected in the fact that nearly 1.5 million square feet of data center space is in the planning stage.
Recent commissioned power expansion demonstrates that Portland has been discovered by the industry. Between the second quarter, 2019 and the second quarter, 2020, Portland added 36.5 megawatts of commissioned power for an increase of 83.3%. 22.5 megawatts of that 36.5 were added in the first half of 2020, for 38.9% growth in six months. The rapid growth in commissioned power use drove vacancy down 300 basis points year-over-year to 9.9%.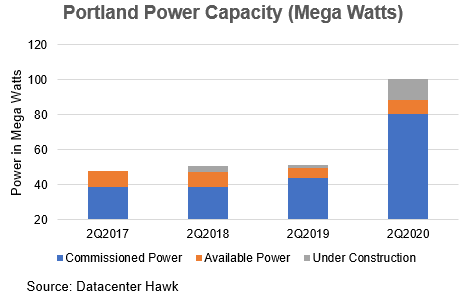 Outlook
Data centers rose to the challenges presented by the pandemic, providing the essential services that allowed Americans to successfully work, learn, shop, socialize and be entertained while "locked down" in their homes. The data center sector remained strong through the pandemic and its associated recession as it maintained the country's business and household activity.
Post COVID-19 expansion should remain robust as the pandemic highlighted the importance of the data center sector to the overall economy. The insatiable demand for data to improve business performance will continue to drive robust growth of the data center industry. Smart technology, cloud computing, artificial intelligence, communications and security are expected to continue rapid growth as consumers look to make everyday tasks faster and easier. A recent survey from CoreNet found that 94% of end users believe that remote working and virtual meetings will continue in the post coronavirus economy. Global Workplace Analytics estimates that 25-30% of the workforce will be working from home multiple days per week by 2021.11 All indicators point to strong, growing demand drivers for the data center market for the foreseeable future.
Provided By
GARY BARAGONA
Director of Research
415.229.8925
gary.baragona@kidder.com
Written by John Fioramonti
Kidder Mathews Research
Sources
1. Census.gov
2. Supermarket News; askwonder.com
3. https://www.idc.com/getdoc.jsp?containerId=prUS45213219
4. Digitalcommerce360, https://www.digitalcommerce360.com/article/coronavirus-impact-online-retail/
5. Id.
6. https://azbigmedia.com/lifestyle/increase-in-entertainment-options-curing-covid-19-pandemic/
7. Frost & Sullivan, "Telehealth-A Technology-Based Weapon in the War Against the Coronavirus, 2020, https://ww2.frost.com/news/press-releases/telehealth-to-experience-massive-growth-with-covid-19-pandemic-says-frost-sullivan/
8. "commissioned power" refers to power in use as opposed to available power.
9. REjournals.com, https://rejournals.com/the-proof-is-in-the-stocks-data-center-reits-outperforming-turmoil/
10. San Francisco and surrounding Bay Area, including Santa Clara, San Jose, Sunnyvale, Milpitas and Silicon Valley.
11. "Work-At-Home After COVID-19—Our Forecast" Global Workplace Analytics, https://globalworkplaceanalytics.com/work-at-home-after-covid-19-our-forecast
Additional Sources: Kidder Mathews Research Services; Datacenter Hawk; Equinix.com; Data Center Frontier; Data Center Knowledge