The sudden, unprecedented disruption of the economy and commercial real estate markets by the COVID-19 pandemic sent investors to the sidelines as they assess the damage and search for the best opportunities.
According to Real Capital Analytics, commercial real estate sales volume of $68.4 billion in the third quarter was down 57% on a year-over-year basis. Seeking a safe harbor through the pandemic, growing numbers of investors, large and small, are moving to the recession-resistant self-storage asset class.
The self-storage industry has been steadily expanding at an annual average rate of 7.7% since the boost it received during the Great Recession. During that period, while other commercial real estate sector REITs suffered losses as high as 60%, self-storage sector REITs posted positive total returns of 5%. The self-storage market has thrived since then, with demand driving strong self-storage construction. Between 2015 and the end of 2019, available rentable self-storage square feet in the U.S. exploded from 1.8 million square feet to 1.7 billion square feet, at the cost of $16.8 billion.1 There are now more than 24 million individual self-storage units in more than 60,000 self-storage facilities in the United States.2
U.S. Self-Storage Construction Spending and Added Rentable Square Feet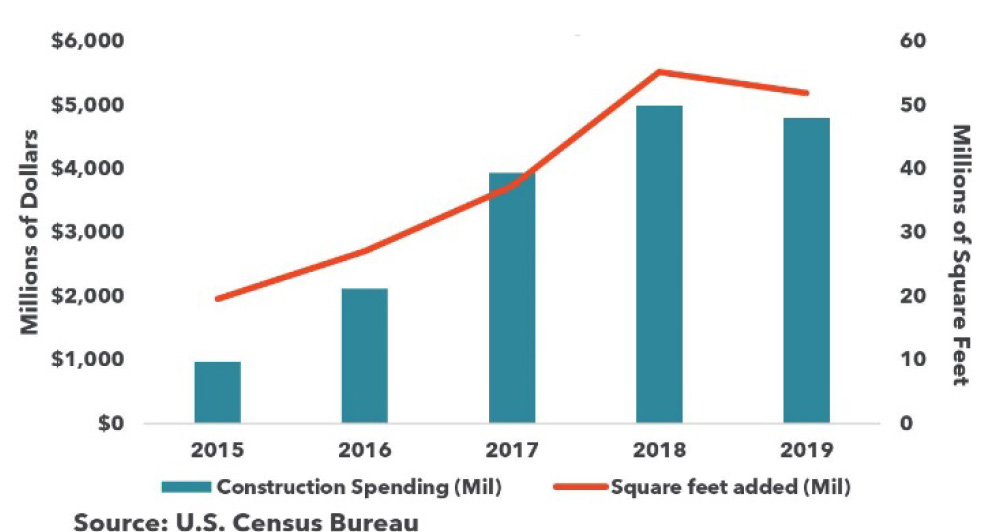 The historic strength of the self-storage market is demonstrated by its decade-long run of strong annual revenue growth. From 2010 through 2019, average annual revenue grew by 5%, topping out at $39.5 billion in 2019. Projections call for annual revenue to grow nearly another 12% by 2024.
U.S. Self-Storage Annual Revenue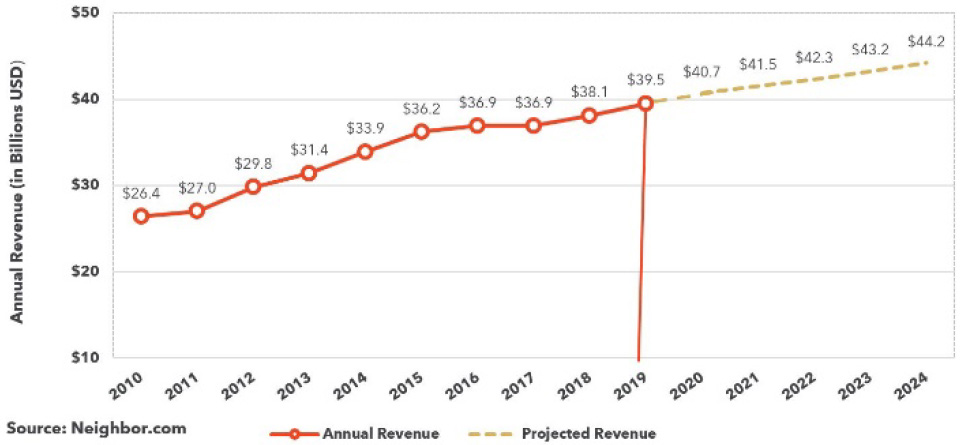 Despite the addition of nearly 1.7 billion rentable square feet over the five years ending in 2019, strong demand kept occupancy high. As shown in the graph below, demand has supported the aggressive development of rentable storage space as vacancy only increased 70 basis points between 2015 and 2019.
Self-Storage Vacancy Rates in the U.S.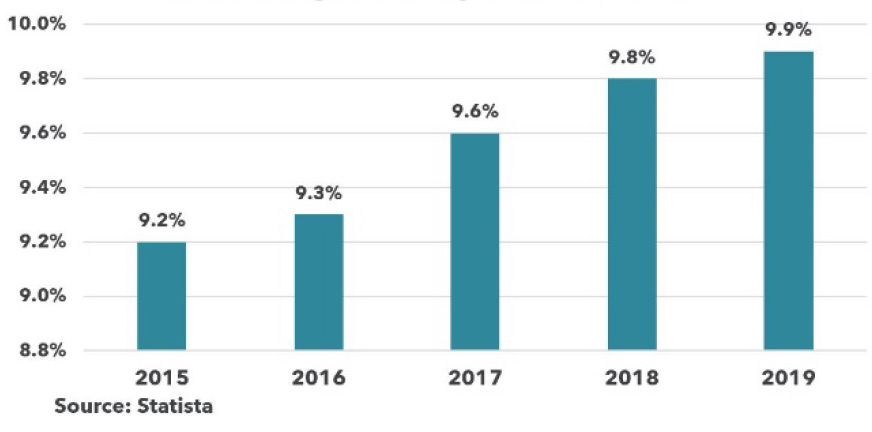 The solid fundamentals of this market over the past decade explain the robust investment activity. Between 2012 and 2018, $27.5 billion was invested in this specialty market.
U.S. Self-Storage Investment Dollars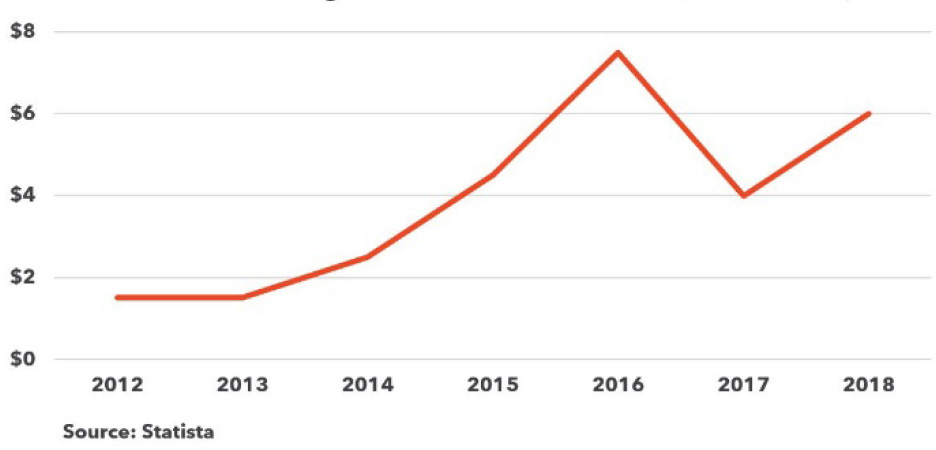 Yield driven investors found the higher cap rates attainable in this asset class — averaging in the mid-6% range for the past couple of years – so attractive that total sales volume topped $31.9 billion between 2015 and the third quarter of this year.
U.S. Self-Storage Sales Volume Trends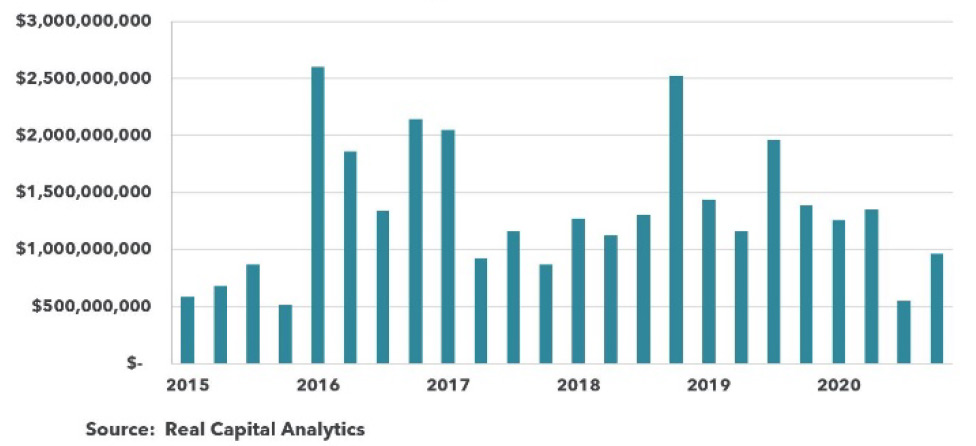 So, what are investors finding that makes the self-storage asset class such an attractive investment in this tumultuous CRE environment?
Demand: Industry experts typically cite the "4Ds of self-storage"—divorce, dislocation, death, and downsizing—as the main demand drivers for the market. The COVID pandemic has amplified all these life events throughout the year. Shutdowns, stay-at-home orders, unemployment, college closures, and more than 200,000 deaths have caused severe dislocation and significant downsizing across the country. Temporary business closures also drive the use of self-storage as businesses grapple with current and future space management issues. These effects of the pandemic drive greater demand for storage space as people and businesses try to regroup and stabilize their situations. A recent IBISWorld Storage and Warehouse Leasing Industry report found that 1 in 11 Americans are now using self-storage units, paying an average of more than $90 per space per month for rent.
Opportunity: The self-storage industry is highly fragmented, with over 70% of the facilities owned by small, private owners who own three or fewer facilities.
Self-Storage Industry Ownership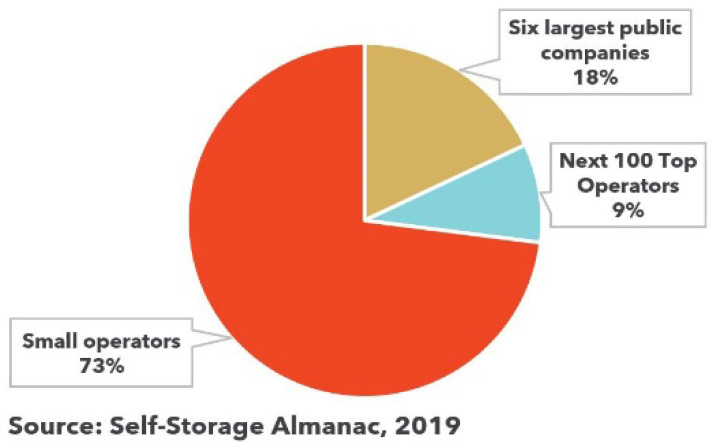 This presents opportunities for a wide range of individual investors, first-time investors, and small investment groups to enter the market. Local owners who are ready to sell their smaller, older facilities are more readily accessible as these facilities do not fit the larger, institutional investors or operators' investment criteria.
Attractive Operating Margins: With much lower operating and capital expenses, self-storage operations typically yield 60% to 70% net operating income. The business's very nature significantly reduces unexpected repairs and expenses, and items subject to capital expenditures are few and predictable. Strong NOI produces strong profit margins. According to Dave Hettinger, national account manager at Motili, the self-storage asset class has outperformed every other CRE asset class for healthy profit margins. "On average, storage operators enjoy an enviable 41% profit margin, compared to the 22% average profit margin across all industries," noted Hettinger.
Flexible Rent Structure: Unlike the long-term lease structure of other rental CRE, such as office, retail, or apartment, self-storage units are rented on a month-to-month basis. This gives self-storage operators great flexibility to raise or reduce rents as the local market dictates to keep units rented. Tenants are reluctant to move due to nominal increases in rent as, most likely, they would find the same rates at other facilities in the area.
Pandemic Compliant: The normal operations of a self-storage facility are ideal for COVID-conscious investors and customers. A typical facility configuration is such that people don't congregate as in other CRE asset classes. At any given time, there are only a few tenants accessing their units. And now, many actions such as obtaining a lease and paying rent have become contactless. So self-storage facilities are ideal for limited grouping and social distancing protocols.
Conclusion: The self-storage market experienced significant growth over the past decade. Before the pandemic, strong economic growth fueled vigorous job growth, household formation, and increased consumer spending, all important drivers of self-storage demand. Downsizing baby boomers and demand for smaller apartment units in urban cores placed living space at a premium, further driving this specialty market's growth.
The pandemic's impact inflicted only temporary, minor disruption to the growth trajectory of the self-storage market. The extreme effects of the ongoing pandemic have intensified the stressors categorized by the "4Ds of self-storage," allowing the industry to operate through the pandemic without significant interruption. The sector has proven itself to be recession-resistant and a source of healthy cash flow. The many advantages of a self-storage investment demonstrate that investing in this sector is not only a safe harbor through the pandemic but a solid long-term addition to a CRE investor's portfolio.
Provided By
GARY BARAGONA
Director of Research
415.229.8925
gary.baragona@kidder.com
Written by John Fioramonti
Kidder Mathews Research
Sources
1 Self-Storage Almanac (2019)
2 BISWorld, 2020 reports 60,024 facilities in the U.S. while the 2019 Self-Storage Almanac reported 45,547 facilities.
3 Biggerpockets.com/member-blogs
4 "Self-Storage Market Has Flourished in the Last Decade" GlobeSt.com