The COVID-19 experience profoundly reshaped many attitudes and beliefs held for decades before the pandemic. From where we live to how we shop, COVID fundamentally transformed how we think about the way we live, work, and play. Many of these changes are expected to remain long after the pandemic subsides. One of the most impactful changes is a nationwide shift in the employer/employee relationship. What many initially believed was a temporary, COVID-forced work-from-home policy has now become a mandatory option for much of the nation's office workforce.
The trend toward remote work was underway prior to COVID. A Pew Research survey of more than 5,800 US adults conducted in October 2020 found that one in five employees whose work responsibilities could be done remotely said they worked from home either all or most of the time before the pandemic. By October of 2020, 71% of the survey respondents were working from home. COVID was the catalyst that accelerated the existing move to remote work.1
What did we learn during the past two years that transformed traditional attitudes about remote work? How will the rapid proliferation of work-from-home policies change office use? What is the long-term outlook for remote work?
It should come as no surprise that going into the pandemic lockdown, employers' main concern was whether their employees could maintain pre-pandemic productivity levels while working from home. However, only nine months into the most monumental "…shift in American working and living arrangements since World War II,"2 83% of surveyed employers and employees declared the shift to remote work an overwhelming success while employee productivity indeed increased.3
Recent studies show employees are 47% more productive while working remotely than working in an office setting because they report having greater flexibility, no commute, less stress, fewer distractions, better focus, and have an overall better work-life balance.4  In fact, working remotely has become so important that 74% of workers surveyed in the fall of 2021 said they would quit their jobs if they were not able to continue working remotely, and 85% indicated they would not apply for jobs that did not offer remote working.5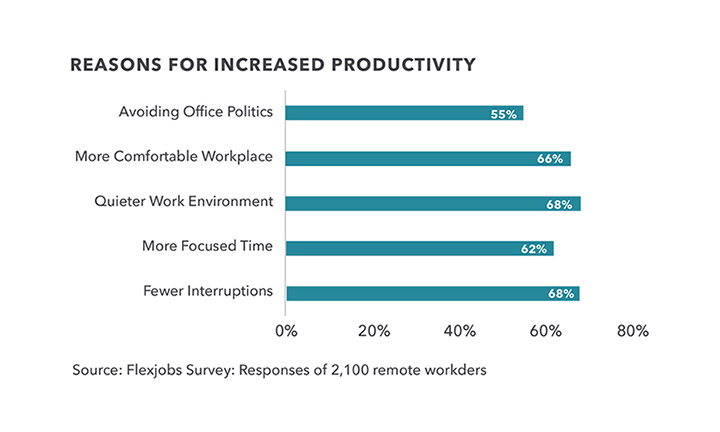 A survey of 800 employers by Mercer, an HR and workplace benefits consulting firm, found 94% of the surveyed employers believed work productivity was the same or higher since employees started working from home.6 In addition to productivity, a recent PwC remote work survey found 68% of business executives believed a strong company culture could be maintained under a hybrid work policy with remote workers in the office between one and three days per week, with most employers (29%) opting for the three days per week option.7
Despite the strong preference for remote working, a recent survey8 of 4,000 remote workers found that 81% said they would prefer flexible work options offered at their places of employment. Explaining their preference for hybrid work policies, these survey respondents identified what they miss most from working in the office: seeing their colleagues (49%); personal interactions with colleagues (44%); in-person meetings (26%); and the stimulation of the office environment (14%). Similarly, a recent survey of employers found they think it is essential to keep some amount of in-person collaboration for such things as working on new projects (44%); coaching employees (35%); onboarding new hires (38%); and innovation of products or services (41%). Survey results like these explain the overwhelming consensus favoring hybrid work policies (55% of employees and 68% of employers).
Technology has been vital to the success of any remote working policy. While some amount of weekly office time is preferred by the majority of employees and employers, over 83% of employees use video conferencing and other technology regularly for collaboration, and 70% of employees believe digital technology improves their collaboration and increases their productivity by up to 30%.9 Employers also rely on video conferencing and digital technology for many communication purposes. From project management to employee interviews, 55% of businesses say video conferencing effectively increases employee engagement and collaboration.10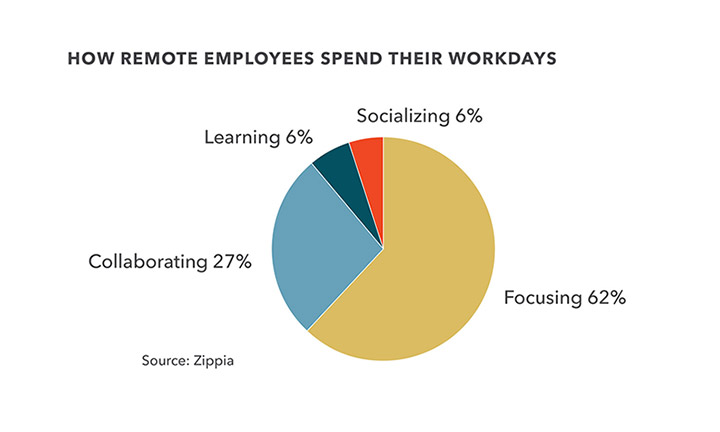 Some form of remote work was overwhelmingly supported by 97% of employees, according to Flexjobs' 2021 10th annual survey.11 Positive remote working experiences have also convinced employers to embrace remote work policies increasingly. By the third quarter of last year, 85% of US companies allowed or required remote work,12 and 74% believed remote work would be the new norm.13 Given the unquestionable preference of employees for remote work and the numerous benefits to employers that come from offering flexible work options,14 it seems safe to say remote work will, at some time in the near future, become the dominant form of office employment.
The incredible growth and popularity of remote working over the past two years with both employees and employers make it clear remote work is not just a passing trend. But as mentioned above, the consensus of both employers and employees is that there are also important benefits to having office time available as part of the overall workweek. Collaboration, socialization, and innovation are necessary elements for a successful business and a productive, fully engaged workforce. Moving to a hybrid work model achieves the priorities of all stakeholders, but how does that move change the office's purpose, function, and look?
Recently, McKinsey & Company interviewed Gensler Co-CEO Diane Hoskins regarding the post-pandemic workspace,15 emphasizing a more "human-centric" approach to designing the
post-pandemic office space. Hoskins noted for the decade before COVID-19, there was growing worker dissatisfaction with the workplace. The pandemic accentuated that dissatisfaction. Now, human-centered design is designing "…with the intent of enabling people. It is not about putting the design before the human, but rather the design is for the human."
To complement hybrid work schedules and virtual work, today's workspaces now include flexibility and multiple options to allow for focused work and gathering for collaboration.  Individual desks and work cubicles give way to more adaptable designs and communal and social areas where teamwork, creativity, and a sense of connection can be promoted — all critical components of a strong corporate culture. To achieve the optimal work environment, companies need to develop office space to support their hybrid workforce through technology and provide the physical spaces and amenities needed for personal interactions. Finding the right balance of in-office and remote work will make companies as effective as possible.
The bottom line is remote work is here to stay, but so is the office. This dichotomy continues to fuel an increase in hybrid work models across most, if not all industries — a trend that will persist as the reinvented workplace continues to evolve and transform to accommodate the recent shift in employee preferences.
Contact
GARY BARAGONA
Director of Research
415.229.8925
gary.baragona@kidder.com
Written by John Fioramonti
Senior Business Writer
Kidder Mathews Research
Sources
1 Pew Research Center
2 Ladders: "Data: Nearly 20% of All Professional Jobs are Now Remote" January 3, 2020
3 "Remote Work Productivity Study finds Surprising Reality: 2-Year Analysis," February 2021, Remote Work Productivity Study Finds Surprising Reality: 2-Year Analysis | Great Place to Work®
4 Apollotechnical.com, Statistics On Remote Workers That Will Surprise You (2022) – Apollo Technical LLC
5 "The State of Remote Work in 2021: A Survey of the American Workforce," GoodHire, The State of Remote Work in 2021 Survey | GoodHire
6 SHRM Better Workplaces, Better World
7 US Remote Work Survey: PwC.
8 Flexjobs
9 "24+Mesmerizing Workplace Collaboration Statistics," GoRemotely, 24+ Mesmerizing Workplace Collaboration Statistics [2022]
10 "The State of Video Conferencing in 2022," GetVoip, The State of Video Conferencing in 2022
11 Flexjobs
12 Fortunly, "30 statistics About Working from Home that Prove the Future Is Remote," These Working from Home Stats Prove the Future is Remote | Fortunly
13 Forbes, 5 Statistics Employers Need To Know About The Remote Workforce
14 Jumpcloud
15 McKinsey & Company, "The rebirth of workspace design: An interview with Gensler co-Ceo Diane Hoskins
Stay in the know and subscribe to our monthly West Coast Market Trends report and our quarterly market research.