Entering the second month of the COVID-19 global pandemic, many owners and managers of multifamily properties in the Northwest were anticipating May collections to be worse than April. However, in analyzing the results from our May Rent Collection Survey, apartment properties appear to have done better than projected.
The May survey collected data from owners and managers of 728 properties, totaling nearly 16,000 units across Oregon and Southwest Washington. Responses were taken from May 7th – 11th.
This report highlights trends from May's survey results, touching on how they compared to this same time in April, and what this may mean for future collections.

Executive Summary
MAY UNPAID RENT – Amazingly, despite 20.5 million more Americans losing their jobs in April, as of May 11th, the total percentage of leased units that had not paid rent by May 11th was only 9.46%, a half percent decrease compared to April's survey. The combined percentage of vacant units plus unpaid units was 13.65%, only 20 basis points higher than April.
LOCATION – For this month's survey we broke down the location into a few new categories because so many properties were lumped into one general category last month. Interestingly, properties located in Portland saw a decrease in uncollected rent down to 5.8%, and Portland suburbs decreased to 7.9% uncollected rent, which represents a 4% to 5% improvement from April. On a more sobering note, unpaid rents for properties outside the Portland-MSA jumped up to 10.2% from 4.04%.
HOW APRIL COLLECTIONS ENDED UP – A couple additional questions were added to May's survey regarding how April collections looked at the end of the month. The results were surprising, with half of those polled saying that by April 30th they had collected between 51-100% of the rent from units that were unpaid as of April 10th. It appears April's final collections ended up far better than the 9.97% that was unpaid as of mid-last month.
FUTURE COLLECTIONS – May's survey had 50% of owners/managers feeling confident they would ultimately collect past due rent from most or all of their tenants. This was a 21% increase from April, when only 29% felt they would collect most or all of the past due rent. Undoubtedly this reflects an increasing sense of optimism among many owners/managers.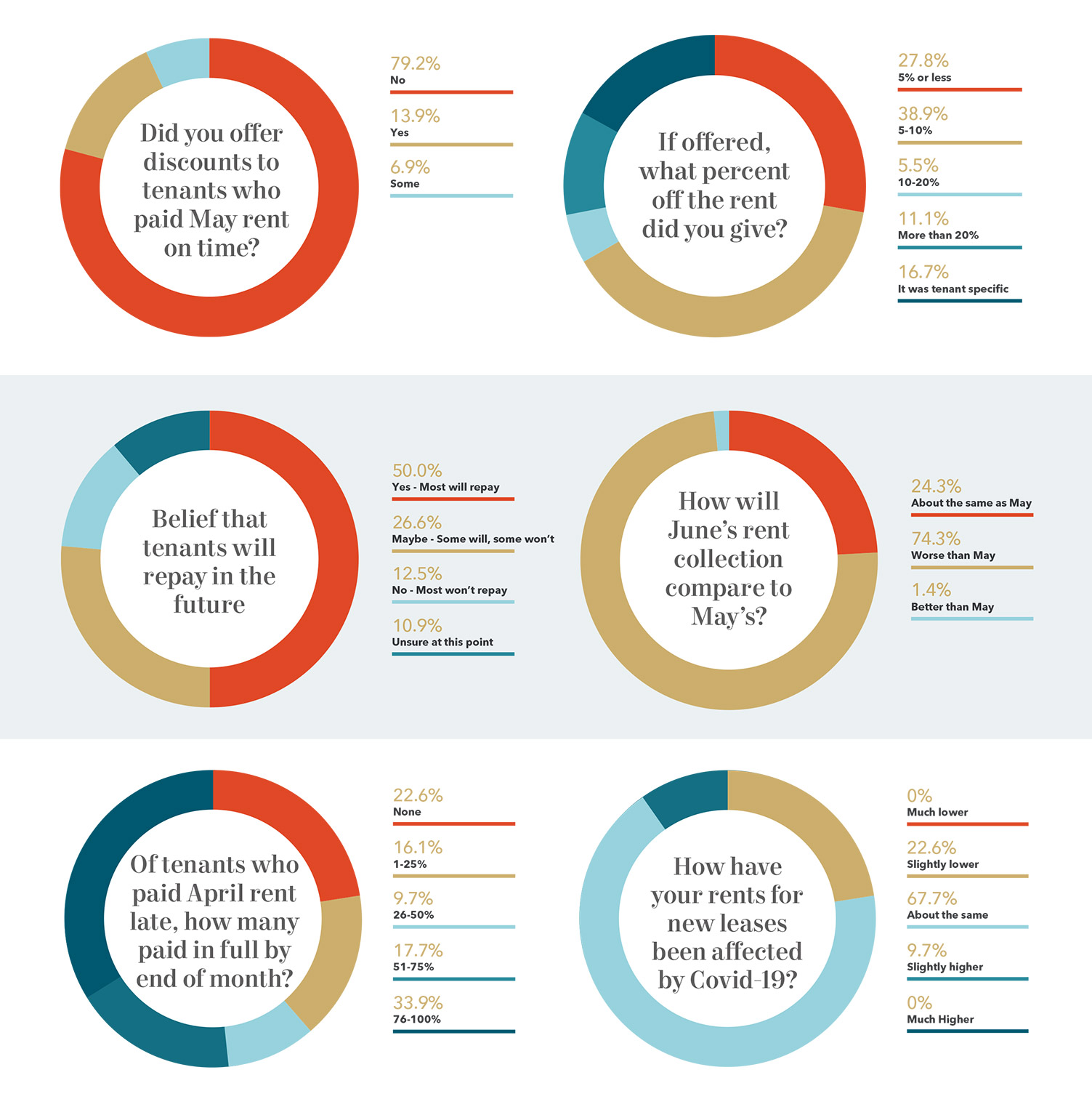 Quotes from Property Owners and Managers
"I'm cautiously optimistic that with some businesses opening up again in May, we will start to see more tenants pay some/all of June, July rents." – Property Owner
"Rental of vacant apartments seems stronger than before COVID. We usually get an application within a few days of posting a vacancy." – Property Owner/Manager
"We have done much, much better than expected…" – Property Owner
"I have two tenants that have not paid since April, they do not respond to phone calls or letters. It is unreasonable for the state to require landlords to wait for nine months or longer to get paid." – Property Owner
"So far so good for rent collections. Most of my tenants still have their jobs, many working from home now, so my water, sewer, and garbage costs have gone up." – Property Owner
About the Survey
The biggest takeaway from this month's survey was that so far, May's collections are showing improvement over what we saw in April. We heard a lot of concern from respondents last month about tenants prioritizing paying rent, especially in light of actions at the state and local level that prevented evictions. This month there was a lot more optimism for how the coming months will unfold. Likely a big part of the improvement in numbers and optimism is due to the effects of federal and state stimulus program money being used to pay for essential needs, including paying for a place to live.
As with April's survey, our goal was to get an accurate mid-month snapshot of rent collections across Oregon and Southwest Washington during the COVID-19 crises. With that in mind, the scope of our survey was concentrated on properties located within our region, rather than those in national portfolios.
In comparing our submarket results to national studies, Oregon and Southwest Washington appear to be faring about 3% better than the nation as a whole. NMHC's most recent rent payment tracker, through May 13th, showed 87.7% of households had paid rent, which was an improvement of 2.7% over April 13th. As such, the trend of May's collections being better than April appears to be happening both at a local and national level, which is a great sign.
Looking forward, it will be interesting to track collections as cities and states start opening back up, as Oregon is just now doing. Will employment bounce back right away? With Portland's tri-county area not being allowed to enter Phase 1 of the reopening yet, how will collections in those counties look compared to the counties that have been allowed to proceed? There are still many unknowns on the horizon, but if May has been any indication, it appears the multifamily market is headed in the right direction.
About the Portland multifamily investment team
The survey was conducted by multifamily investment team, Jordan Carter, Clay Newton, and Tyler Linn of Kidder Mathews. The team focuses on assets valued between $2 million to $30 million across Oregon and Southwest Washington, and they are widely recognized as the leaders in private capital apartment sales across the region.
About Kidder Mathews
Kidder Mathews is the largest independently owned commercial real estate firm on the West Coast, with 900 real estate professionals and staff in 22 offices in Washington, Oregon, California, Nevada, and Arizona. Kidder Mathews offers a complete range of brokerage, appraisal, property management, consulting, project & construction management, and debt & equity finance services for all property types. The firm performs $9.6 billion in transactions, manages over 71 million square feet of space, and conducts over 1,680 appraisals annually. For more information, visit kidder.com.