Three full months into COVID-19, the June survey for apartment rent collections in Oregon and SW Washington illustrates the shifting trends taking place for owners, managers, and tenants. The number of tenants not paying rent decreased by nearly 3.7% over the last month, while the overall vacancy has increased by almost 1% at the same time.
In what could be a sign of COVID-19 fatigue, the June survey remained sizeable, but it did have fewer responses than April and May with data collected from the owners and managers of 308 properties, totaling nearly 10,000 units. Survey responses were collected from June 9th -12th.
The following report highlights trends from this month's survey results, touching on how they compared to the same time in May, and what factors may be causing the statistical changes.

Executive Summary
JUNE UNPAID RENT – For the second straight month, June saw the number of leased units not paying rents decrease significantly, this time down from 9.46% to 5.74%. The big question is, why? The opening of Oregon and SW Washington (outside of Multnomah County) may be one factor, stimulus checks and unemployment benefits entering bank accounts another. Still, an increasing vacancy factor from struggling tenants vacating their units may have also contributed. The total percent of vacant units plus unpaid units decreased from 13.65% in May to 10.72% for June.
VACANCY – This month's survey showed a notable rise in apartment vacancies, from 4.19% in May to 4.97% in June. This would be one of the larger single month jumps in vacancy in recent memory. It seems to coincide with many conversations, with owners and managers, about tenants who tried to hang on for a couple of months but are now leaving in search of other housing options.
LOCATION – When it comes to vacancy as it relates to location, properties located in Portland saw a significant uptick in vacancy this month, increasing from 3.09% in May to 7.18% in June. Given Portland is the only major city surveyed that had not begun Phase 1 of reopening at the time of the survey, and the other locations surveyed saw minimal changes to their vacancies, it seems the effects of COVID-19 are weighing more heavily on Portland at this point.
TENANT NOTIFICATION OF INABILITY TO PAY – In the first two months of the survey, roughly 55% of tenants who hadn't paid rent notified their owner/manager. For June, that number dropped to only 34%. As the percentage of tenants not paying decreases, those who are starting to pay may have had a higher likelihood of notifying the owner/manager in the first place.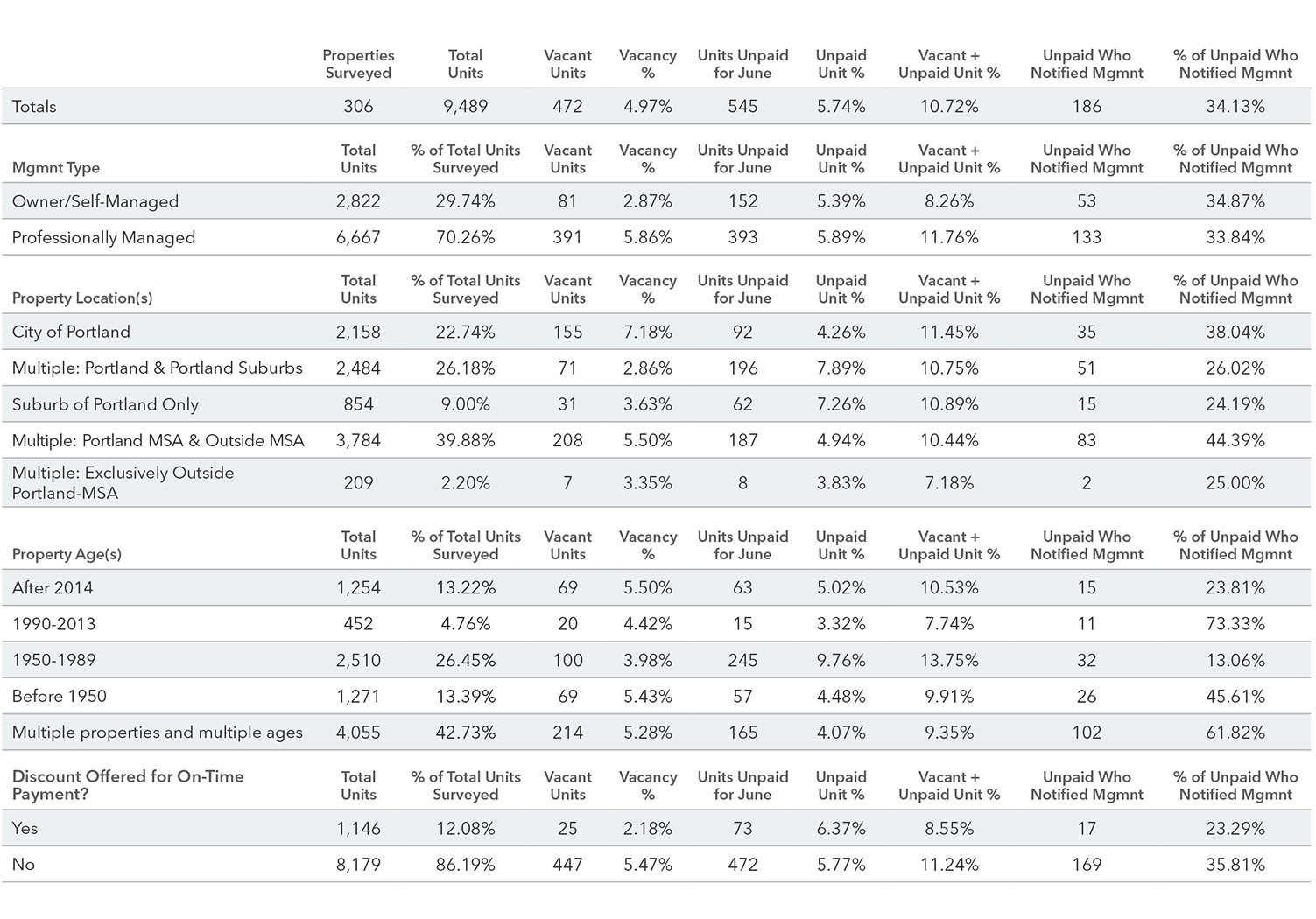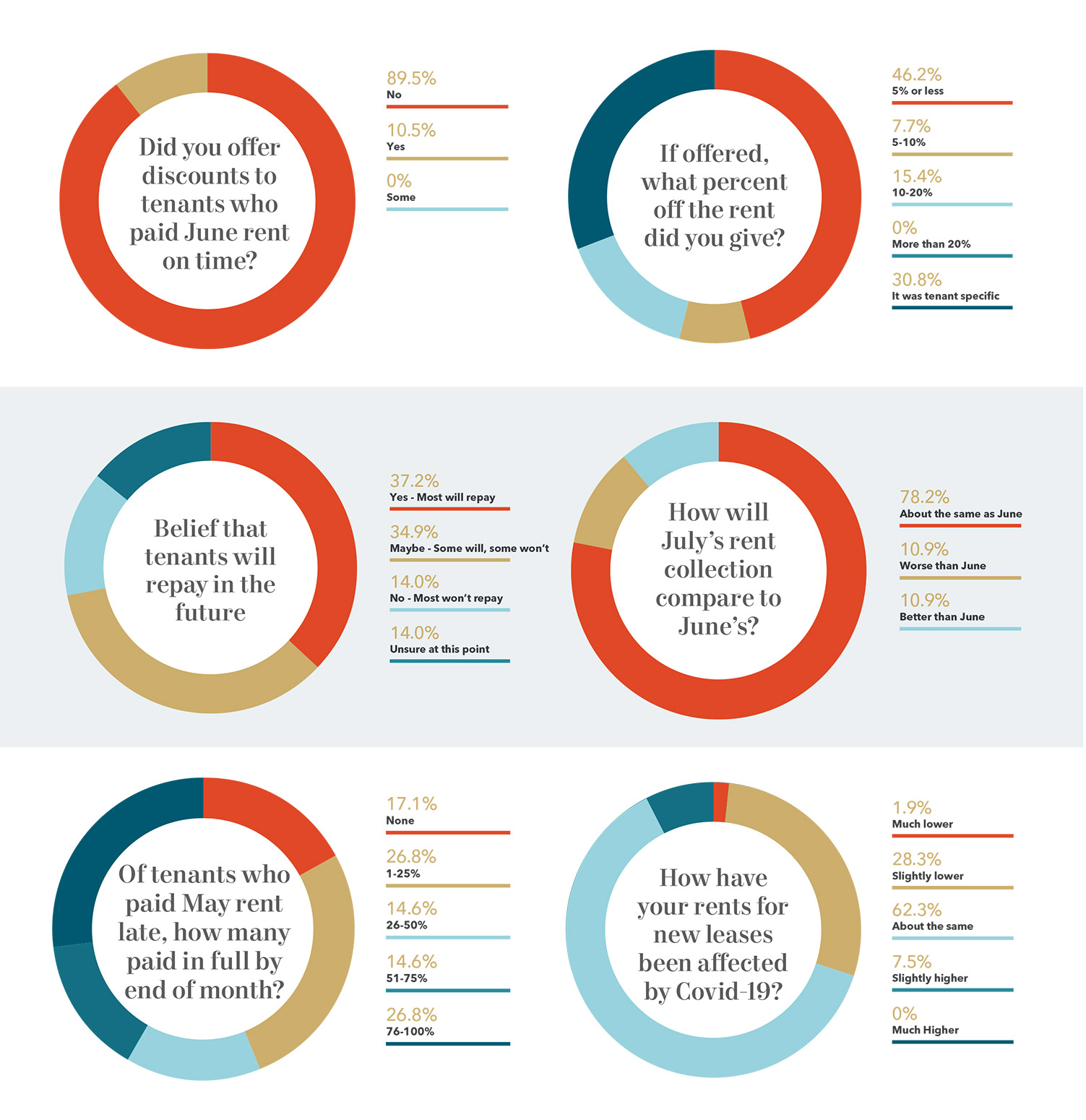 Quotes from Property Owners and Managers
"It is disappointing that government's apartment owner assistance is only available for owners of low-income apartments." – Property Owner
"I am extremely concerned about how the July 31 CARES Act expiration will affect rent collection in August and after." – Property Owner
"Still hanging on, but hopeful that businesses open up soon." – Property Owner
"Rents are slightly lower than pre-COVID, but pre-COVID was late winter. Normally rents would be significantly higher as we enter warmer months." – Property Owner/Manager
"State leaders think that landlords can magically pay their bills when tenants can defer their rent payments for over six months, and it will be impossible to get any back rent due. In reality, our bills are piling up for mortgages, insurance, property taxes, utilities, maintenance & repairs." – Property Owner
About the Survey
As we sort through our survey results each month, we've been surprised by certain results that paint a different picture from what we might have expected. The most interesting trend this month concerned the total percentage of vacant units plus unpaid units decreasing from 13.65% to 10.72%, but the way this came about was surprising, with vacancies increasing while leased units not paying dropped nearly 3%.
Looking forward, we will closely watch the impact that opening up businesses (or continuing to keep them closed) has on these percentages, as well as the impacts of the federal stimulus checks and increased unemployment checks wearing off.
National reports paint a fairly optimistic picture of vacancies. With Moody's Analytics forecasting that even in a "worst-case scenario," vacancies are not expected to meet or exceed the record 8.1% high back in 2009.
As with each of our last two surveys, our goal has been to get an accurate mid-month snapshot of rent collections across Oregon and SW Washington during the Covid-19 crisis. With that in mind, the scope of our survey was concentrated on properties located within our region, rather than those in national portfolios.
About the Portland multifamily investment team
The survey was conducted by multifamily investment team, Jordan Carter, Clay Newton, and Tyler Linn of Kidder Mathews. The team focuses on assets valued between $2 million to $30 million across Oregon and Southwest Washington, and they are widely recognized as the leaders in private capital apartment sales across the region.
About Kidder Mathews
Kidder Mathews is the largest independently owned commercial real estate firm on the West Coast, with 900 real estate professionals and staff in 22 offices in Washington, Oregon, California, Nevada, and Arizona. Kidder Mathews offers a complete range of brokerage, appraisal, property management, consulting, project & construction management, and debt & equity finance services for all property types. The firm performs $9.6 billion in transactions, manages over 71 million square feet of space, and conducts over 1,680 appraisals annually. For more information, visit kidder.com.