In the most recent Commercial Property Executive (CPE) 100 Quarterly Sentiment Survey, participants expressed rapidly deteriorating confidence in the outlook for the economy and for the performance of the commercial property industry. Inflation, rising interest rates, and recession concerns were cited as the main drivers of the growing pessimism among the 100 real estate executives surveyed.
The second quarter survey conducted in mid-June reflected a substantial shift in the respondents' expectations for the country's economic conditions over the next six months. The survey results showed that 67% of respondents believe that the economy will be worse in six months, nearly three times the 23% that felt so in the first quarter survey. This reflects a stark change from last year's attitudes where the majority of respondents consistently expressed confidence that the economy would improve in the next six months.
What will general business conditions be like six months from now compared to today?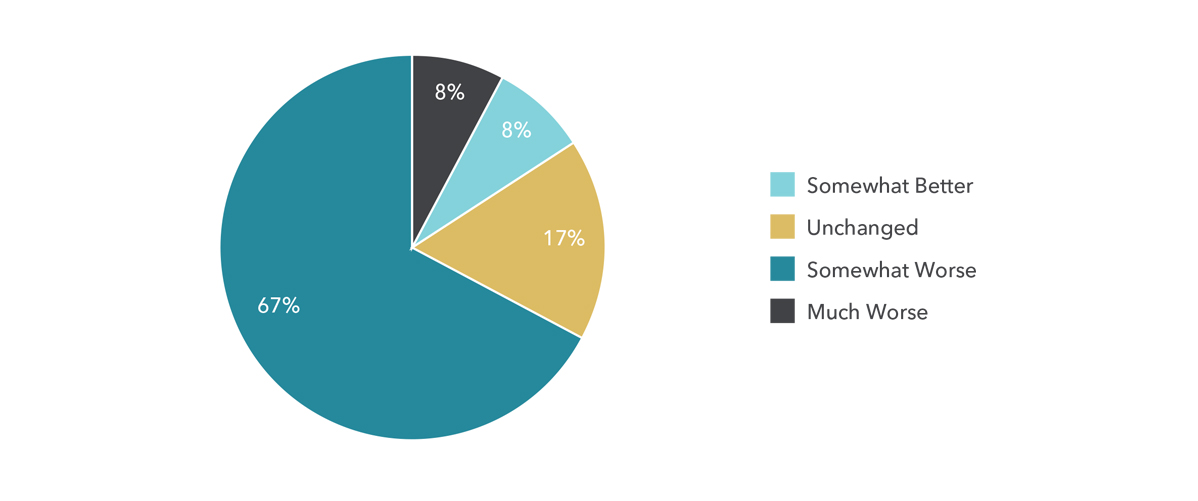 Optimism about the future of the industry declined even more dramatically in the second quarter survey. In the second quarter 2021 survey optimism ran high as 86% of survey participants believed that the commercial real estate industry would perform better over the next six months. Twelve months later attitudes flipped with 92% of respondents expecting declining performance through the end of the year.
What will the health of the commercial real estate market be six months from now compared to today?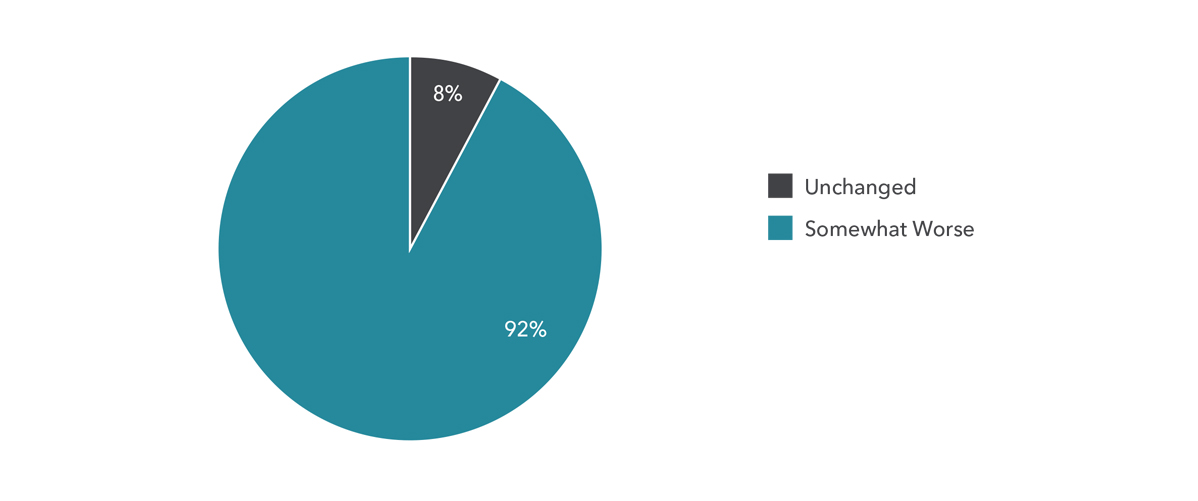 The rapidly rising interest rates are a major concern of the survey respondents, with 83% believing that the rate increases will begin adversely impacting the market by the end of the year. The majority of respondents believe the primary impact of higher rates will be reduced deal volume and investment. Higher cap rates and worries about financing are also concerns expressed by the survey participants.
Expected effects on commercial real estate market from rising interest rates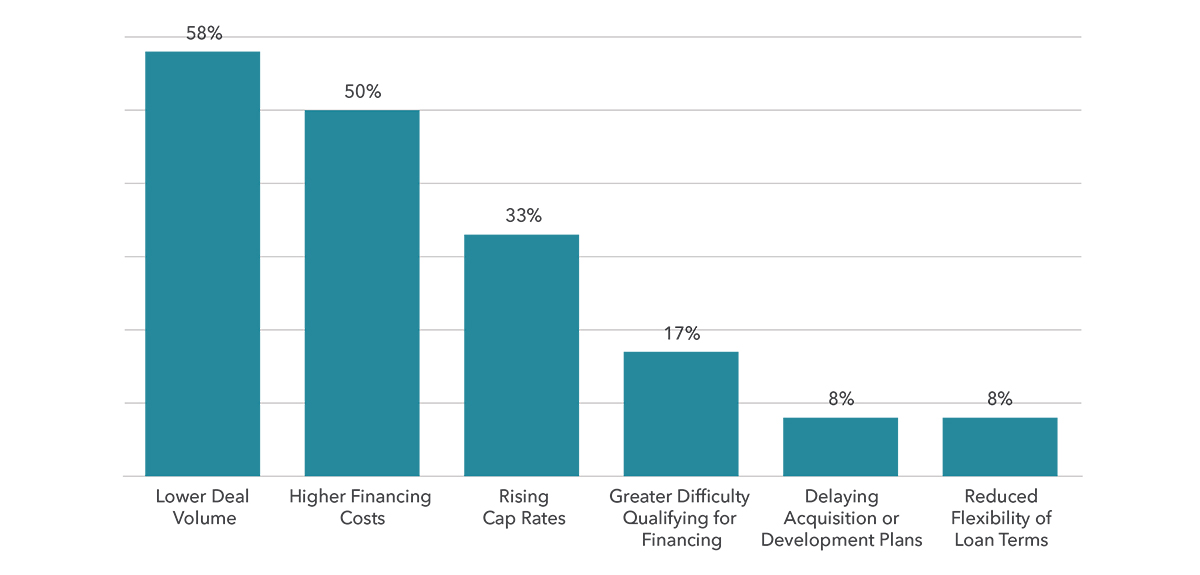 Finally, survey participants' confidence in the performance of their own companies dropped significantly from the first to the second quarter surveys. In the first quarter, only 8% of respondents thought their company's performance would decline over the next six months. Three months later, that percentage jumped to 42%.
How do you expect your business to be performing six months from now compared to today?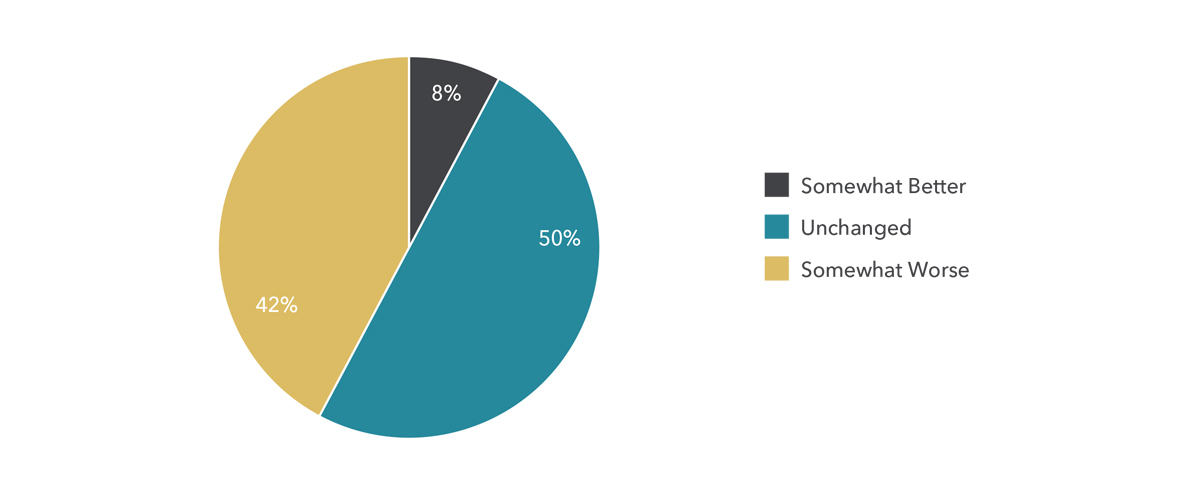 The key takeaway from the CPE 100 second quarter sentiment survey is that commercial real estate executives across the country now foresee a longer period of economic instability than previously thought. With that comes continued rising interest rates and a potential recession, dimming their outlook for the industry and requiring adjustments in strategy moving forward.
Contact
GARY BARAGONA
Director of Research
415.229.8925
gary.baragona@kidder.com
Written by John Fioramonti
Senior Business Writer
Kidder Mathews Research
Sources
CPE 100 2nd Quarterly Sentiment Survey
Stay in the know and subscribe to our monthly West Coast Market Trends report and our quarterly market research.