The effects of the COVID-19 pandemic have been unprecedented and extraordinary. The Property Management Division of Kidder Mathews has created this document as guidance for our owner clients in making informed decisions about re-occupancy of their assets as quarantine restrictions are eased.
The content of this Guide is derived from information available from the World Health Organization (WHO), the Centers for Disease Control & Prevention (CDC), the Building Owners and Managers Association (BOMA), the Institute of Real Estate Management (IREM), the American Society of Heating, Refrigerating and Air-Conditioning Engineers (ASHRAE), along with contributions from our vendor partners, and is further informed by the operating experience accumulated from our 70 million square foot, 5 state, management portfolio. While not applicable to every property or circumstance, this guidance is intended to generate the consideration necessary to re-open a given building.
In this next phase of recovery, all companies need to take the following into consideration: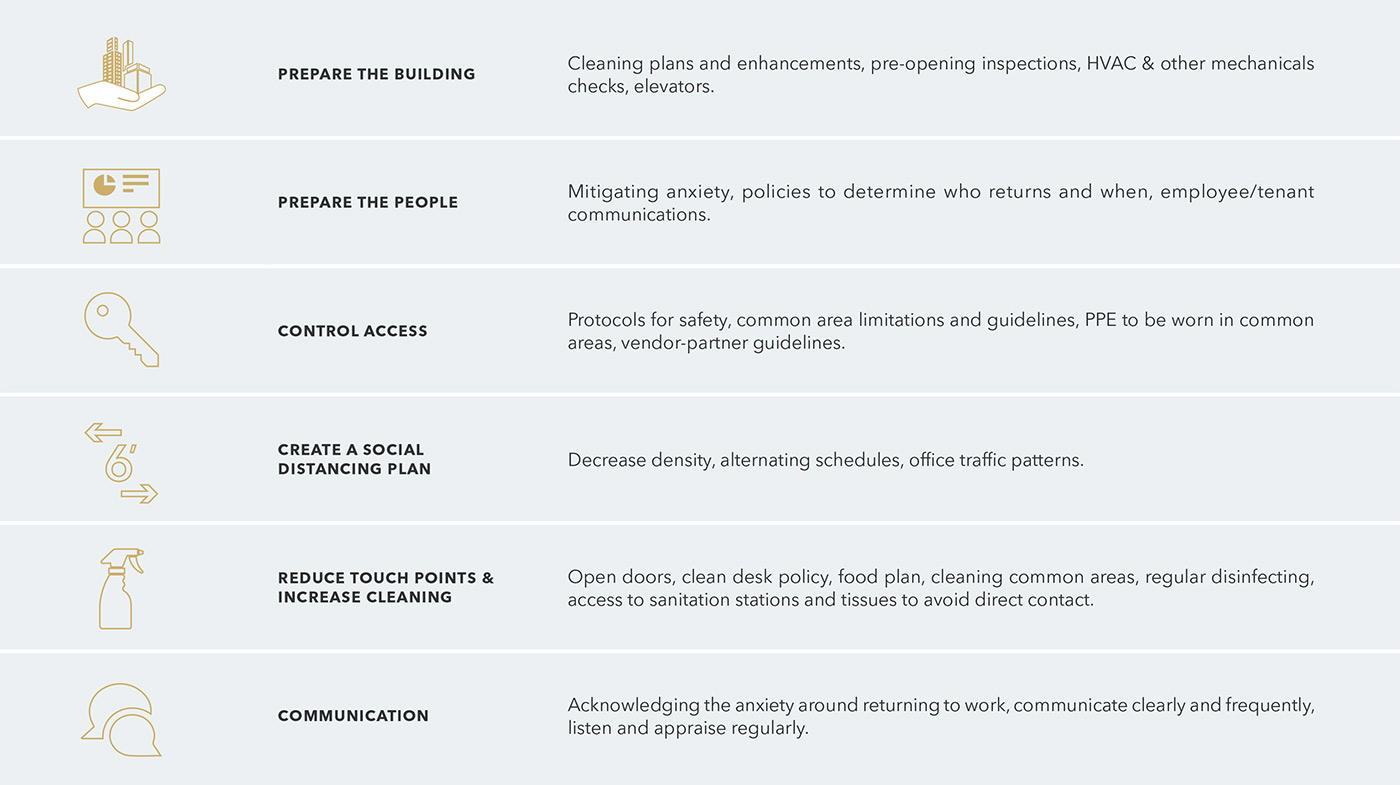 Acknowledging that tenants, landlords and employees alike are facing these same challenges, provides a unique opportunity to come together in collaboration. Kidder Mathews has crafted this guideline with our "heart for service" which permeates throughout our company and with the spirit of collaboration.
With state and local Stay-at-Home Orders and other various governmental recommendations, we anticipate the course for reentry to occur in a phased approach as companies come back to work based on their specific plans and timelines. As these government orders and recommendations loosen up permitting more people to return to work, landlords and property managers will need to adjust and adapt to accommodate this reentry.
Each state has published minimum requirement to allow businesses to re-open. These include:
THE CAPACITY of the facility to support social distancing and improved and more frequent cleaning.
THE AVAILABILITY of the new and necessary supplies (hand sanitizers, PPE, etc.) and critical support businesses (daycare centers, etc.).
THE AVAILABILITY of widespread testing and monitoring of people with COVID-19 symptoms and ability to isolate and respond to a COVID-19 case on premises.
THE IMPLEMENTATION of regulatory compliant practices.
PLANNING FOR BUILDING REENTRY
Reentering workplaces is challenging as we navigate various governmental guidelines along with State and Local orders which are constantly changing. Within this guide, we present new and creative ways to address the tenant, employee, visitor and vendor-partner access and experience.
All parties must participate for a successful reentry to the building. Therefore, communication between all parties; landlord, tenant and property management is highly critical. Taking into consideration the health and safety of each as we reenter the workplace.
This guide will provide detailed information regarding tenant communication, access control, building systems and operations, as well as defining the landlord's responsibilities versus that of the tenants and where the two overlap.
LANDLORD RESPONSIBILITY
We have broken down the Landlord's responsibilities into four sections, as noted below. We have also provided a Re-Opening Checklist to help property managers assure that each critical element is properly addressed, the costs associated identified and the landlord has approved. The property manager and landlord will complete this checklist in partnership with one another.
While it is the responsibility for each tenant to develop a plan for their particular premises, we will highlight their areas of responsibility, too.
BUILDING Electrical, Plumbing, HVAC, Fire/Life Safety, Elevators, etc.
BUILDING OPERATIONS Building Ingress/Egress, Signage, Janitorial & Enhanced Cleaning, Restrooms, etc.
SAFETY MEASURES Exposure Response Plan (COVID-19), COVID-19 Reporting Process and Protocols, Evacuation Plans and Gathering Places To Reduce Occupancy.
BUILDING AMENITIES Food Service, Fitness Center, Interior/Exterior Common Areas, Conference Rooms, Bike Rooms, Mail Retrieval, Smoking Areas, etc.
RE-OPENING CHECKLIST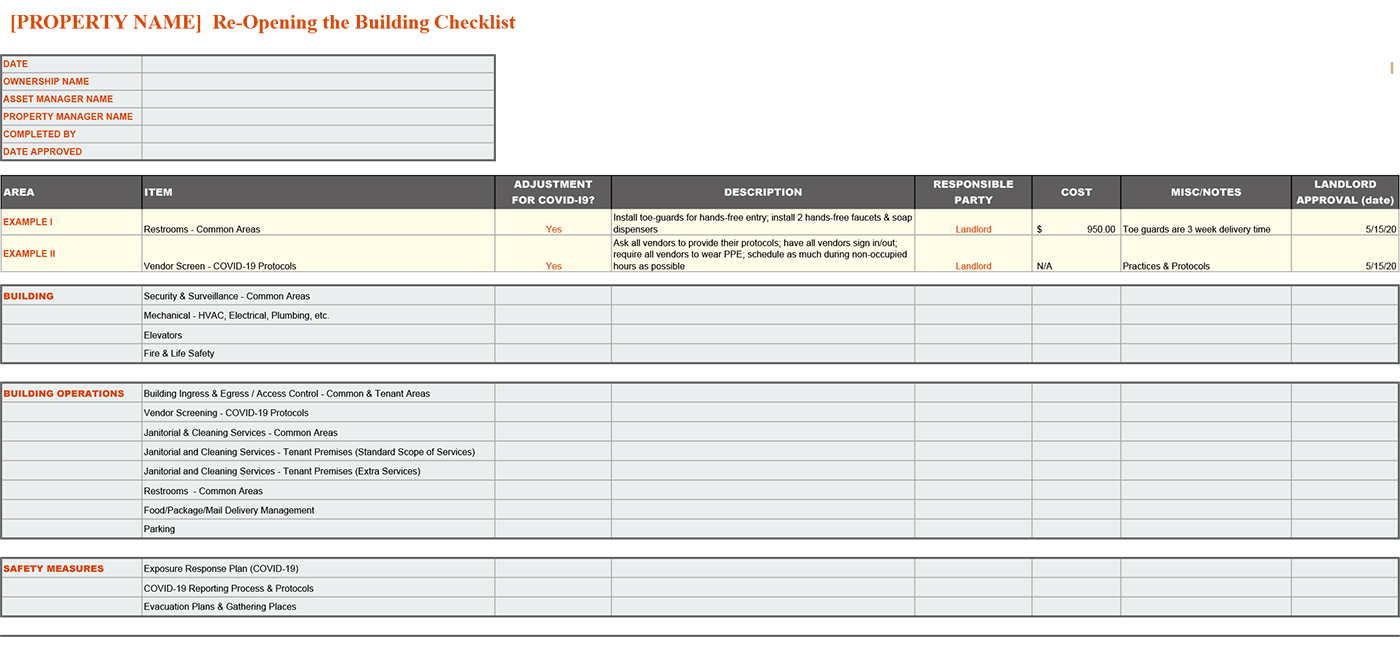 PLANNING FOR BUILDING REENTRY
BUILDING CONSIDERATIONS
HVAC, ELECTRICAL, PLUMBING, FIRE/LIFE SAFETY, ELEVATORS
Our goal is to work with our clients to review Building Operating Procedures and Building Rules and Regulations in order to consider and implement modifications to our procedures due to COVID-19. Areas of modifications which should be considered include the following:
Building ingress and egress
General access for employees and visitors
Requirements regarding use of face coverings and social distancing protocols in common areas as recommended by the CDC and WHO
Tenant deliveries including food and general supplies
Trash, recycling, and bio-waste disposal
Operating hours
Visitor and vendor access and hours
Elevator systems – passenger spacing, call button usage, queueing and overall traffic flow
Parking facility rules and regulations – all cars park one way in order to avoid driver interaction
Common areas, fitness center, conference rooms, mail delivery, and other common area protocols
Smoking areas
BUILDING OPERATIONS
BUILDING INGRESS/EGRESS, SCREENING, CONCIERGE, JANITORIAL, RESTROOMS, PARKING/GARAGES
Review access controls, security and camera systems for all common areas and determine if any changes in operations are needed in order to manage ingress/egress, social distancing and safety. This may include lockdown at entry only (not exits) of all but one entry, changes to the building access control hours, special procedures for vendors and visitors and potential safety checks.
HVAC systems should be assessed to identify opportunities for increasing outside air ventilation rates and filtration efficiency, where possible, in accordance with guidance by CDC, OSHA and ASHRAE. More detail regarding HVAC is provided herein.
HVAC systems that serve high-traffic areas or areas with higher density occupancy will require special attention.
Plumbing systems may require modifications for increased frequency of hand washing, increased maintenance to ensure proper operations, ample supply of hot water for hand washing and possible retrofit of plumbing fixtures to touchless faucets, urinals, toilets, soap dispensers and paper towel dispensers. In addition, stagnant water can lead to bacteria in the system. Preventive maintenance schedules for the engineering teams include frequent flushing of toilets/urinals, running of all faucets and drinking fountains and pouring water into all bathroom drains.
Building lighting systems need to be reviewed and possibly adjusted for modified tenant occupancy.
Review layout of furniture in all common areas. Layouts may need to be modified or areas may need to be completely restricted. Some furniture may need to be removed to provide adequate social distancing.
All building automation system (ie. HVAC, lighting etc.) controls and schedules should be evaluated in order to support modified occupancy, revised hours of operation, and desired changes in operations.
For the HVAC system, this may include extended hours and increased levels of outside air introduction to the building. For the lighting controls, this may include an increase or decrease in operational hours based on modified tenant work schedules.
Elevator system modifications may be required in order to maintain safe social distancing and occupant traffic flow. Furthermore, protocols will need to be implemented and tenants and visitors will need good visible guidance to these new protocols.
Confirm with tenants who may have suite level security or access control systems. These systems may need to be adjusted in order to coordinate with base building systems. In addition, special access may need to be provided for building engineering staff and janitorial crews (non-operating hours access).
Ensure tenants have reviewed the operations of any tenant dedicated systems, including HVAC, emergency generators, lighting controls and server rooms.
ELEVATORS
IMPLEMENT new protocols to include maintaining social distancing and safe traffic flow by utilizing building security personnel (if available) and signage to encourage passengers to meet social distancing requirements.
FREQUENT disinfection and cleaning of elevator surfaces including call buttons, handrails and wall panels.
PROVIDE a sanitation station and tissues at the lobby for elevator occupants to use to avoid contact with call buttons, etc.
ASSESS any elevator cab HVAC systems and increase ventilation when possible.
IF THERE IS A DISPATCH SYSTEM in the elevator controls, evaluate re-programming where possible in order to support the modified tenant occupancy in the building. Also, activate any automatic call services available in the dispatch system.
ENSURE that proper signage and new protocols are installed at all elevator cabs to assist with social distancing and safe usage of the elevators. On site personnel, such as engineers and security staff, will most likely not be available to support this function at all times.
HVAC
INCREASE outside air ventilation rates where mechanically possible. When increasing ventilation rates take into account the impacts to indoor temperature/humidity ensuring that tenant comfort is not adversely impacted during occupied hours when outdoor air temperatures are above or below the design conditions for your region and HVAC equipment.
WHERE POSSIBLE, and in accordance with ASHRAE guidance, enhance central air filtration efficiency over code minimums while ensuring no adverse impacts to HVAC system performance. Seal edges of filter racks to limit bypass of air.
CONSIDER running the HVAC system for extended hours, running the system longer enhances the positive impact of increasing outside air ventilation and filtration efficiency.
TO ASSIST with circulating the increased outside air and ventilation rates, run the toilet exhaust fans continuously when HVAC systems are operating.
LIMIT HVAC maintenance and non-emergency repairs to non-occupied hours.
IN GENERAL, disabling of heating, ventilating, and air-conditioning systems is not a recommended measure to reduce the transmission of the virus.
SUPPLEMENT your building's system in high-risk areas. Portable air purifiers can be effective at controlling airborne particle concentrations. Most high-quality portable air purifiers use HEPA [high-efficiency particulate air filters, which capture 99.97% of particles.
GENERAL OPERATIONS & COMMON AREAS
PROP OPEN doors where possible to minimize contact.
REVIEW building ingress and egress and create order of access to allow occupants to enter/exit at a safe distance while practicing social distancing.
COMPLY with screening protocols as dictated by the CDC and State and local governments. Screenings should be for building staff, property management staff, visitors, vendor-partners and tenants.
REVIEW and potentially modify Rules and Regulations pertaining to vendor partners and construction activity.
SCHEDULE and coordinate Preventative Maintenance at various times to reduce occupants in the building and tenant spaces.
REQUIRE tenants, visitors and vendor partners to wear PPE (Personal Protective Equipment) at all times when entering the building and occupying common areas.
INCREASE cleaning of common areas.
NEGATIVE air pressure on construction job sites.
REQUEST vendor partners submit their new safety measures and execution as related to COVID-19.
INSTALL touchless technology and equipment, when possible. This could include hands-free trash receptacles, door push/pulls, toe guards and hands-free restroom equipment (faucets, towel dispensers, auto-flushers).
CLEANING ENHANCEMENTS
CREATE schedule of increased cleaning by way of disinfection of key touch points throughout the building to include, but not limited to: entrances, lobbies, common areas, mailboxes, directories, restrooms, all door handles, elevator buttons and handrails.
INSTALL hand sanitizer stations at the entrance(s), restroom(s), and all common areas. Hand sanitizer to be hands-free if possible and contain 60-97% alcohol.
REVIEW potential increased frequency of common area cleaning; additional day porter hours, second day porter, etc.
ENSURE janitorial company is utilizing only EPA approved cleaning supplies and following CDC approved guidelines for cleaning and disposal of PPE.
INQUIRE with each tenant should they require above-standard cleaning for their suite.
ENSURE property is equipped with additional supplies, if and when needed.
COMMUNICATE to tenants of new and increased cleaning enhancements.
GENERAL PRACTICES
PRACTICE social distancing of at least 6 feet from another person at all times.
INSTALLATION of plexi-glass guards at security desks, if applicable.
ESTABLISH occupancy limit for all common areas.
PLACE signage throughout common areas and keep updated as things change.
PROVIDE tenants necessary updates regarding procedures and changes.
REQUIRE tenants to notify Management of any known COVID-19 cases in the building.
SAFETY MEASURES
REVIEW and update the Building Emergency Procedures Manual to include new safety control measures.
REVIEW in-place COVID-19 reporting processes and protocols in support of the CDC and State and local directives.
UPDATE building evacuation plans such that gathering places are spread farther apart.
IMPLEMENT and communicate safety procedures for tenants to inform property management of a COVID-19 case or exposure.
BUILDING AMENITIES
FOOD service providers to both common areas and tenants suites will need to comply with the building's new protocols. Consider whether tenants should pick up the food outside the building entrance to limit occupants in the building.
LIMIT occupancy of all common areas (fitness centers, conference rooms, lobby areas, including smoking areas).
REMOVE or reduce seating if necessary.
SCHEDULE increased cleaning of common areas. If opened, fitness centers, bike rooms/lockers, lobbys and conference rooms will require enhanced cleaning and social distancing measures If unable to accommodate social distancing, consider closing area until further notice.
INSTALL sanitizer stations, cleaning wipes and tissues in all common areas.
REVIEW mail delivery service.
INSTALL signage throughout common area to include various guidelines for social distancing, washing of hands and safety measures.
LIMIT the number of people that can occupy the common areas at one time.
CLEAN these areas multiple times per day.
REDUCE seating capacity in conference rooms to increase physical distancing.
WELCOMING TENANTS BACK TO THE BUILDING
TENANT COMMUNICATIONS – SIGNAGE
Kidder Mathews' Property Management Team has worked to develop a seamless process for return to work for tenants. This includes communicating with tenants prior to returning to the building and informing them of any changes in protocols, including ingress/egress, traffic flow and our process of cleaning and disinfecting the building. The purpose is to inform tenants of what to expect when they return and provide a level of assurance that the building is complying with CDC, WHO and State and local government recommendations and requirements.
We have developed a variety of signage templates that can be used at each property and customized as needed.

KIDDER MATHEWS TENANT GUIDE
REENTERING THE BUILDING
Kidder Mathews has also created a Tenant Guide to assist the tenants as they reenter the building and workspace.
Partnering with the tenants of the building will be critical to a seamless re-opening while taking all safety measures possible into account. The cooperation among all parties will be what makes the re-opening of the building successful. Kidder Mathews' communication and Tenant Guide are intended to shepherd these intentions.
PROCUREMENT PLANNING
Key to our smooth reentry process will be the procurement of necessary supplies. Owners and managers be aware of supply chains that are stressed and develop a plan to facilitate purchasing of supplies. Your property manager will work with suppliers to stock your building(s). Allowing for additional delivery times, substitution plans when products are not available and bulk purchasing.
The Kidder Mathews' Re-Opening the Building Checklist was developed to identify these needs so that the property manager can order the necessary supplies and equipment as soon as possible.
SIGNAGE EXAMPLES
11 X 17 SIGNAGE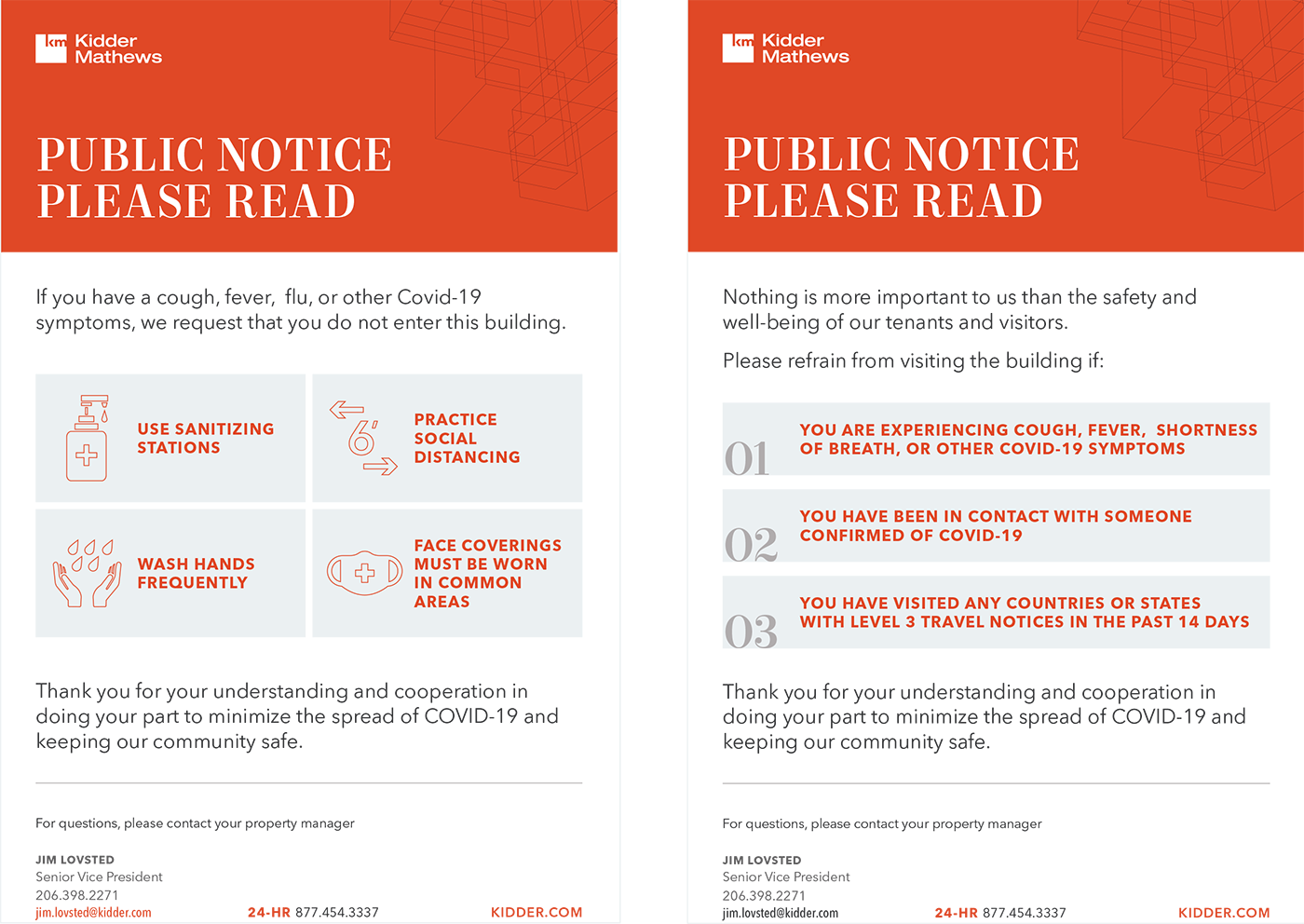 8 1/2 X 11 SIGNAGE