The national response to the COVID-19 pandemic created commercial real estate winners and losers virtually overnight. Business lockdown and shelter-in-place orders devastated the travel industry, driving lodging/hotel mortgage delinquencies from just 2.27% in March of 2020 to 26.04% in September. On the flip side, the same restrictions and limitations created a boom for the industrial sector driven by e-commerce. The refrigerated storage industry, a subsector of the industrial sector, moved into prominence as an "essential services" provider, maintaining vital grocery and pharmaceutical storage and logistics operations through the pandemic's peak. And key trends emerging from the pandemic establish refrigerated storage as a long-term critical component of the food supply chain.
The cold storage industry has been a solid performer over the past decade, fueled by the growing popularity of online grocery sales, subscription meal services, and the growth of pharmaceuticals that require specialized storage. Between 2011 and 2020, the industry expanded 19.5%, with 2021 growth projected to be 3.4%. In that same period, the number of cold storage businesses in the U.S. grew by 57.2% to 2,322. The U.S. led the world last year in refrigerated storage space at 156 million cubic meters, and it is expected that 121 new cold storage businesses will come to market by year-end.1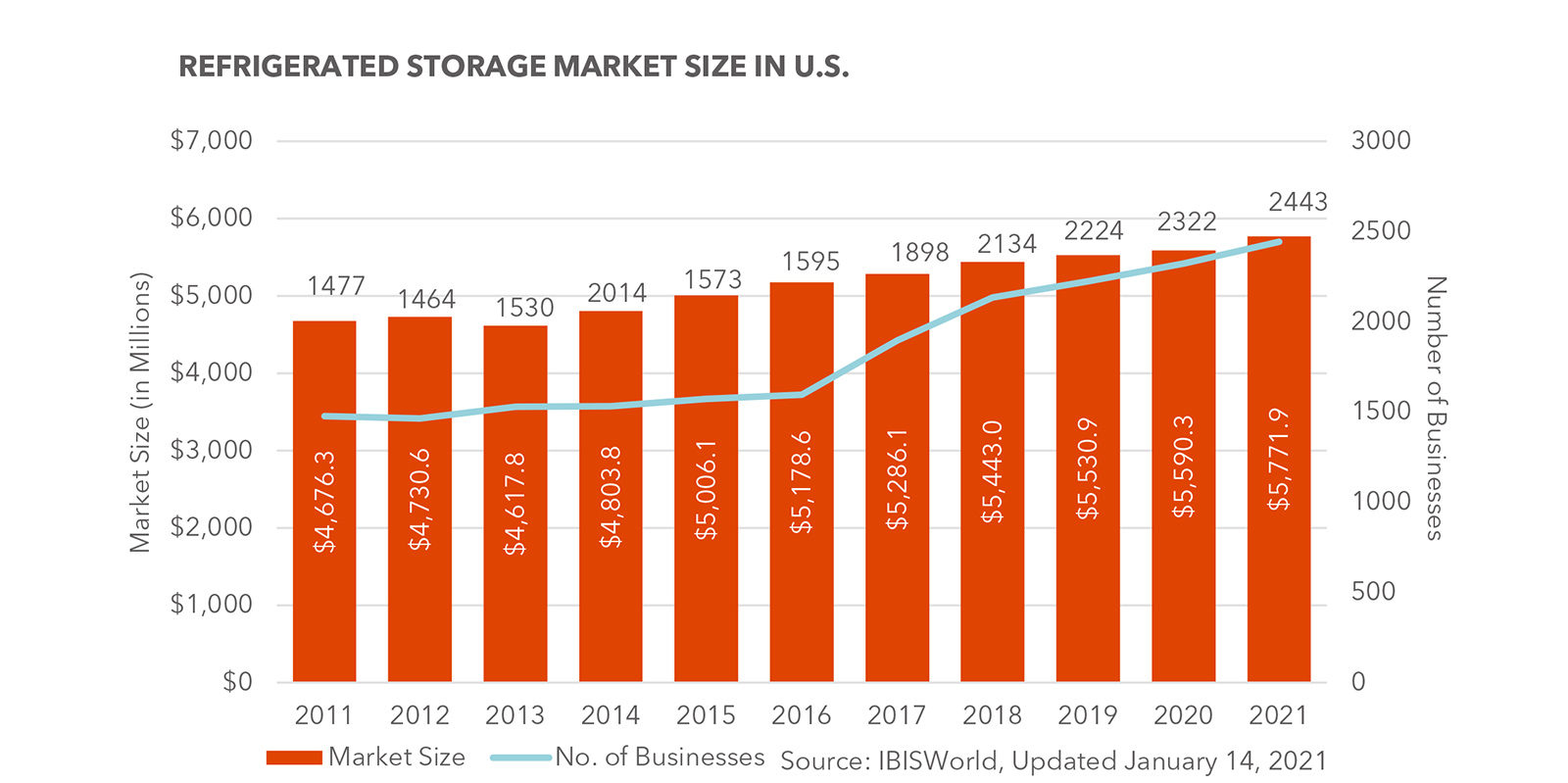 COVID
The refrigerated storage industry was not prepared for the massive surge in online grocery shopping triggered by the COVID-19 pandemic. Online grocery sales more than doubled year-over-year straining storage capacity to industry limits. Total online grocery sales reached $95.82 billion last year, equaling 12% of all e-commerce sales and 7.4% of all grocery sales.2 This surge, attributed to first-time e-commerce grocery shoppers incentivized by new options for online grocery shopping, such as feature-loaded grocery delivery apps and curbside pickup. More than 130 million new e-commerce grocery shoppers made at least one online grocery purchase last year, an increase of 42.6%.3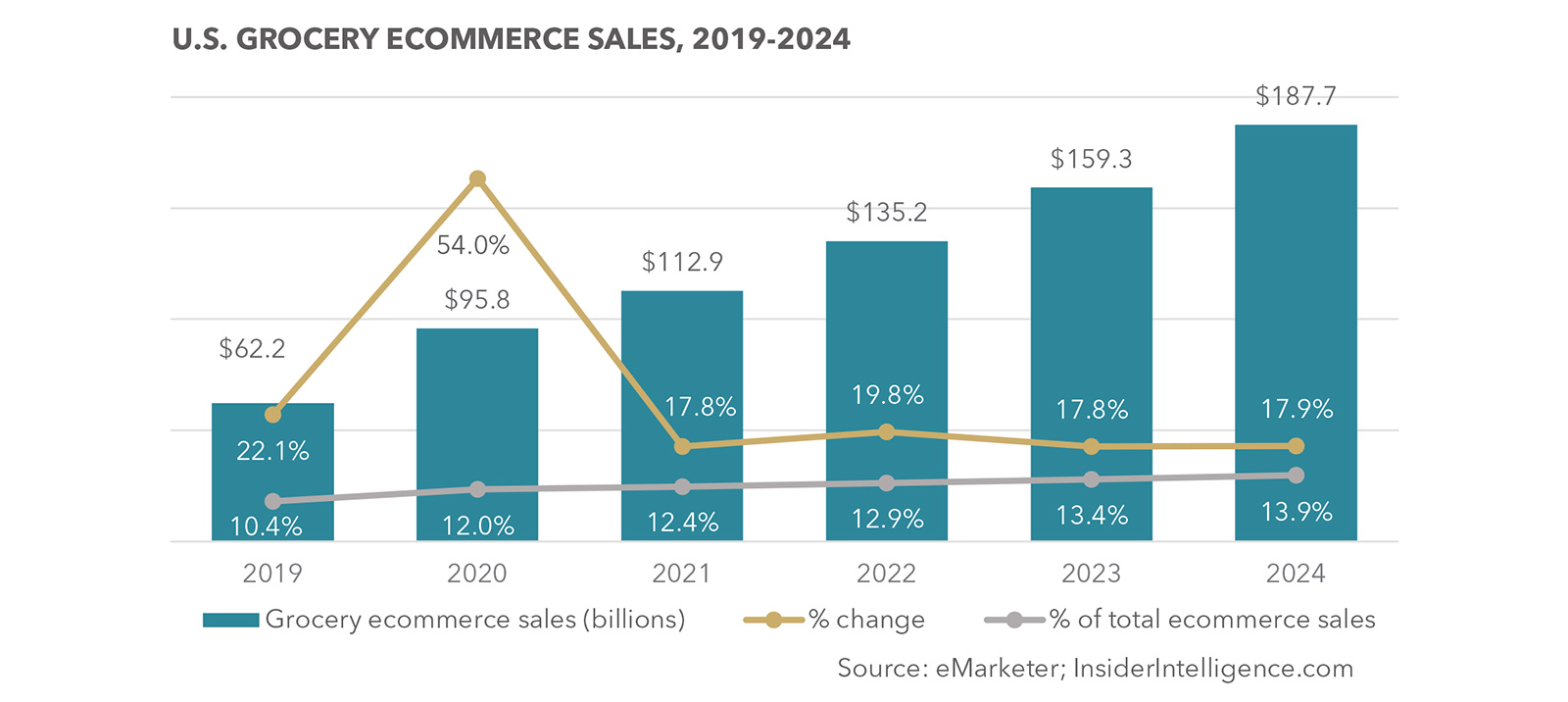 Online grocery sales are projected to exceed $100 billion this year, equaling 12.4% of all U.S. e-commerce sales.4
The strong growth of the industry drove solid rise in employment. Between 2015 and 2019 the number of people employed in the sector grew an average of 5.1% annually to 60,691.5 The added demand fueled by the pandemic drove job growth up over 4,000 jobs, or 6.7%, through January of this year to nearly 65,000. Total national industry wage growth since 2015 grew 30.7% to over $3 billion.6
As the industry struggled to adjust to the heightened demand driven by the massive surge in grocery e-commerce last year, the COVID-19 vaccine rollout caused even greater stress on U.S. facilities. Demand for cryogenic refrigerated facilities skyrocketed 522% year-over-year as the vaccines require storage between +5 degrees and -112 degrees Fahrenheit. This combination of demand drivers pushed cold storage facilities to capacity prompting owners and operators to modernize their facilities through increased automation, contactless technologies, and blockchain solutions. $2.3 billion is the estimate spent on cold storage construction in the U.S. last year as the industry is moving to expand and upgrade its dated inventory. It is projected by 2025, approximately 100 million square feet of new cold storage facilities will be required to meet demand.7
Outlook
The COVID-19 experience highlighted the critical importance of cold storage to our national food supply chain. The pandemic reinforced the importance of having a secure, dependable national food supply over global food reserves. Online grocery shopping will continue to grow, doubling in volume to more than $180 billion over just the next three to five years. A recent Brick Meets Click/Shopper Kit survey8 found that 46% of respondents will continue to purchase groceries online after the pandemic subsides. Online food services such as HelloFresh and Blue Apron continue to grow in popularity. Vaccines and pharmaceuticals for more than just COVID-19 will continue to proliferate. All demand drivers point to solid growth and long-term expansion of the refrigerated storage asset class as an integral part of the food supply chain in the U.S.
Contact
GARY BARAGONA
Director of Research
415.229.8925
gary.baragona@kidder.com
Written by John Fioramonti
Senior Market Analyst
Kidder Mathews Research
Sources
1Global Cold Chain Alliance, 2020 Global Cold Chain Capacity Report | Global Cold Chain Alliance (gcca.org)
2eMarketer, March 2021, ttps://www.emarketer.com/content/2021-online-grocery-sales-will-surpass-100-billion
3Id.
4Id.
5IBISWorld, https://www.ibisworld.com/industry-statistics/employment/refrigerated-storage-united-states/
6Id.
7Commercial Property Executive, "Where Industrial Real Estate Opportunity Knocks" https://www.cpexecutive.com/post/where-industrial-real-estate-opportunity-knocks/
8Online Grocery Shopping Surges to Record Levels in US during COVID-19 crisis (brickmeetsclick.com)