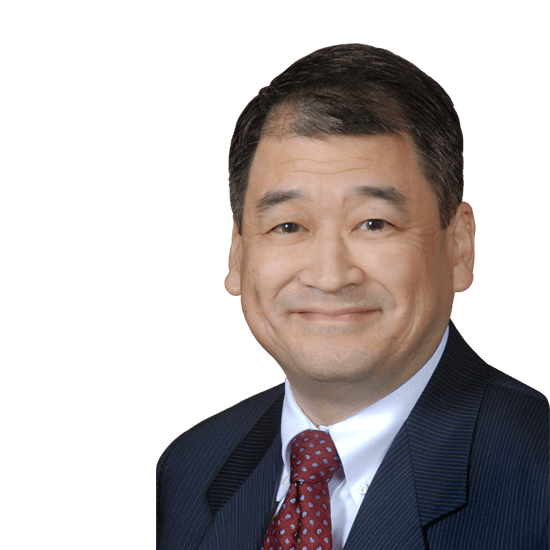 Seattle, WA
Kenneth T. Hirata
Senior Vice President | Shareholder
About
Ken Hirata has been a commercial real estate broker since 1978, specializing in office leasing and investment sales (primarily office buildings). Mr. Hirata has been responsible for negotiating sales and leasing of numerous office projects in the Seattle and the surrounding areas. Mr. Hirata has also represented hundreds of tenants in their relocation process.
Ken has closed over 1,500 transactions involving tenants or investors of office and warehouse buildings in the Greater Seattle market. Ken is a senior vice president and shareholder at Kidder Mathews.

Education
Ken attended the University of Washington and received a Bachelors of Arts degree in business administration in 1978.
Representative Sales Transactions
83,810 sq ft
King County Library Distribution
Seattle
78,212 sq ft
Mariner Square
Seattle
77,811 sq ft
Northway Square East
Seattle
71,648 sq ft
Queen Anne Station
Seattle
71,600 sq ft
Shining Ocean Seafood
Seattle
69,000 sq ft
Queen Anne U.S. Post Office Regional H.Q.
Seattle
63,517 sq ft
Perkins Building
Tacoma
61,674 sq ft
Canal Place Office Park
Seattle
53,200 sq ft
Griffin Envelope
Seattle
51,000 sq ft
Pacific Systems
Kirkland
40,558 sq ft
Salmon Bay Landing
Seattle
39,394 sq ft
Leilani Lanes
Seattle
39,285 sq ft
N.W. Millworks
Seattle
39,000 sq ft
Oak Tree Village Office
Whidbey Island
38,760 sq ft
The Mountaineers Building
Seattle
35,946 sq ft
Fremont West
Seattle
34,769 sq ft
Ward's Cove
Seattle
33,500 sq ft
Clements & Rice
Seattle
28,995 sq ft
Wallingford Plaza
Seattle
28,952 sq ft
Employment Securities
Burien
28,403 sq ft
Dupont Gateway
Tukwila
27,029 sq ft
Thornton Creek Professional
Seattle
26,610 sq ft
Meridian Center
Seattle
24,020 sq ft
Cascade Bingo
Shoreline
20,000 sq ft
Nickerson Business Center
Seattle
18,220 sq ft
Canal 3600 Building
Seattle
17,193 sq ft
Pacific Institute
Seattle
16,985 sq ft
10202 5th Avenue NE
Seattle
16,023 sq ft
The Wharf Building
Seattle
15,954 sq ft
Redhook Ale Building
Seattle
Representative Lease Projects
211,077 sq ft
1000-1100 Dexter Building
Seattle
199,000 sq ft
West Lake Union Center
Seattle
198,481 sq ft
Northgate Executive Center
Seattle
146,950 sq ft
Queen Anne Square
Seattle
142,259 sq ft
Jefferson Square
Seattle
131,000 sq ft
Canal Place Office Park
Seattle
124,000 sq ft
Market Street Center
Seattle
95,300 sq ft
The Burke Building
Seattle
83,361 sq ft
Northway West Office Building
Seattle
80,000 sq ft
The Path, Violet, & Anne Buildings
Seattle
78,200 sq ft
Northway Square East
Seattle
77,600 sq ft
9401 Aurora
Seattle
71,648 sq ft
Queen Anne Station
Seattle
70,080 sq ft
1455 Leary
Seattle
68,575 sq ft
Quadrant I-5 Corp. Center
Everett
66,470 sq ft
First West Building
Seattle
61,528 sq ft
701 Dexter Building
Seattle
55,000 sq ft
Denny & Terry Building
Seattle
47,000 sq ft
Northgate Meridian Building
Seattle
46,038 sq ft
Lake City Center
Seattle
45,700 sq ft
Northgate Office Building
Seattle
40,000 sq ft
Mariner Square
Seattle
37,750 sq ft
Le Clercq Marine Construction
Seattle
36,839 sq ft
Salmon Bay Landing
Seattle
34,813 sq ft
Western Pioneer
Seattle
33,000 sq ft
Athletic Supply Building
Seattle
31,866 sq ft
Fremont West
Seattle
31,000 sq ft
1319 Dexter North Building
Seattle
29,320 sq ft
Lake City Professional Center
Seattle
28,500 sq ft
Fisherman's Terminal
Seattle
28,000 sq ft
Fishermen's Commerce Building
Seattle
27,650 sq ft
Lake Union Uplands Building
Seattle
25,995 sq ft
Madison Square
Seattle
25,456 sq ft
Nickerson Business Center
Seattle
22,346 sq ft
Meridian North Office Building
Seattle
21,800 sq ft
AEI/REI Building
Seattle
20,000 sq ft
Wallingford Plaza
Seattle
16,596 sq ft
The Wharf Building
Seattle
16,023 sq ft
10202 5th Avenue NE
Seattle
15,499 sq ft
Nickerson Marina
Seattle