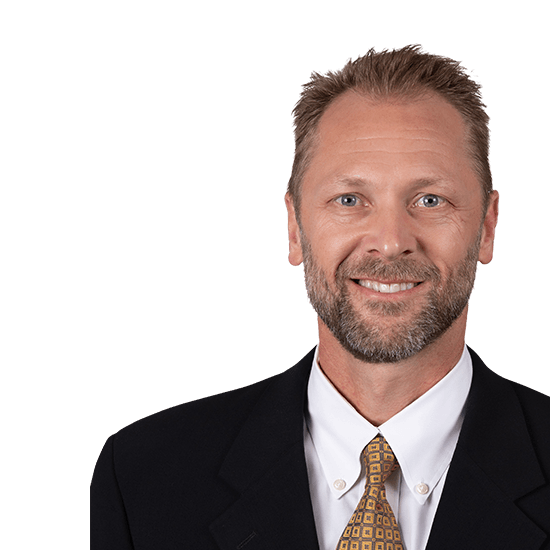 Phoenix, AZ
Kent Hanson
Senior Vice President | Shareholder
About
Kent Hanson is a shareholder and senior vice president at Kidder Mathews with over 20 years of commercial real estate experience. Kent specializes in the sale and leasing of industrial properties throughout Metropolitan Phoenix, with a focus on the East Valley. More specifically, Kent concentrates on owner/user properties serving many types of industrial companies such as contractors, suppliers, manufacturers, heavy equipment operators, and various other types of industries. Kent is a tireless advocate and advisor for his clients, has an exceptional reputation, and leverages his experience to simplify the real estate cycle and minimize risk for his clients.
Prior to joining Kidder Mathews in 2019, Kent was a senior director at Cushman & Wakefield and started his commercial real estate career in 2003 at Grubb & Ellis. Kent has transaction volume over $500 million.
Areas of Expertise
Owner/user building sales
Investment sales
Landlord/tenant leasing representation
Opinion of value
Education
Arizona State University, BS
Select List of Completed Sales Transactions
63,098 SF 4049 E Presidio, Mesa AZ
45,307 SF 8201 S 48th St, Phoenix AZ
42,650 SF 1419 N Eliseo C Felix Dr, Avondale AZ
36,907 SF 1733 W Parkside Ln, Phoenix AZ
33,818 SF 1341 W Industrial Dr, Coolidge AZ
33,034 SF 3062 N Maple St, Mesa AZ
32,151 SF 2420 N Nevada St, Chandler AZ
30,000 SF 6838 W Frye Rd, Chandler AZ
29,984 SF 39 W Hampton Ave, Mesa AZ
29,665 SF 3279 E Harbor Dr, Phoenix AZ
25,234 SF 11237 E Riggs Rd, Chandler AZ
24,000 SF 1980 W C ommerce Ave, Gilbert AZ
23,266 SF 1428 W San Pedro St, Gilbert AZ
22,280 SF 945 S Hohokam Dr, Tempe AZ
22,018 SF 3136 N Lear Ave, Casa Grande AZ
21,120 SF 1837 N Rosemont, Mesa AZ
19,932 SF 3295 N Nevada St, Chandler AZ
18,162 SF 4749 E Ingram St. Mesa AZ
18,162 SF 4825 E Ingram St, Mesa AZ
17,938 SF 4145 W Mercury Way, Chandler AZ
16,881 SF 4725 E Ivy St, Mesa AZ
15,317 SF 3200 N San Marcos, Chandler AZ
15,092 SF 4148 W Venus Way, Chandler AZ
15,033 SF 1429 S Scott, Gilbert AZ
15,000 SF 1350 W 23rd St, Tempe AZ
14,140 SF 2024 W 1st St, Tempe AZ
14,100 SF 1645 N 46th St, Mesa AZ
13,440 SF 641 S Drew St, Mesa AZ
13,116 SF 436 S Hamilton, Gilbert AZ
10,366 SF 965 N Acacia Dr, Gilbert AZ
Kent Hanson knew what I was looking for from a previous deal, and he brought me what I needed without my asking. Some people promise to 'keep you in mind', Kent did it.
Kent has been my trusted adviser for many years. He separates the 'noise' from the real market, and that saves me time and money. Kent is a reasonable, levelheaded real estate veteran who has seen markets fly as well as crash. His input and analysis is always thought out and has proven invaluable in my transactions.
Rick Kovach, President/CEO
Kent is very knowledgeable about the activity in our area. I was very impressed with his hard work, dedication, and the creative efforts he put in to getting our deals done under some very challenging circumstances. Kent continues to be our go-to guy for transactions in this area and I would highly recommend him for any commercial/Industrial/land/building deals you may need.
If you are buying a commercial property, you need Kent on your team. He is extremely communicative, diligent, knowledgeable and works with great integrity. We felt at ease throughout the entire buying process in his hands.
Kent Hanson is fantastic to work with, he worked hard and fast to find us the property we were looking for. Kent knows the market, fair pricing and always negotiated on our behalf like he was paying for the property himself. Working with Kent was a very good experience, and we'll always use him in the future.
Tim Nelson, President & CEO
Working with Kent saved me money, time, headaches and reduced my stress with his attention to detail and knowledge of the process. Any question I had, he answered and explained everything thoroughly. I'd highly recommend using him.
Working with Kent was great. He's very informative and knowledgeable about the different aspects of commercial real estate. I'd absolutely work with him again.