Not since 2008 has there been such a dramatic shift in the rental market as in the past month.
In an effort to quantify some of the early impacts of COVID-19 on the multifamily market in Oregon and Southwest Washington, a survey of multifamily owners and managers was conducted to gauge how rent collections fared in early April, the first month following sweeping eviction moratoriums across most submarkets.
There were 74 submissions collected, totaling 333 individual multifamily buildings and over 11,300 rental units. Prior to the survey, few statistics were being circulated on rent collections locally, leaving only national forecasts that appear misleading or come from institutional sized portfolios.
Executive Summary
APRIL UNPAID RENT  Across the survey, the total percentage of leased units not paying rent for April was 9.97%. Combined with the average vacancy of 3.45%, the overall percent of uncollected gross rent was at 13.42%. This is far lower than the 31% reported nationally by the New York Times in an article from April 8.
LOCATION  Properties located in Portland had the highest percentage of units not paying rent, but not by a wide margin. However, despite a requirement by Multnomah County for tenants to provide evidence of financial hardship, Portland had the lowest percent of unpaid units that notified management compared to other surveyed submarkets.
INCENTIVES MATTERED  According to the survey, properties offering tenants financial incentives for on-time payment only had 6.8% of units not paying for April, compared to 10.29% for properties that did not offer incentives.
FUTURE COLLECTIONS  While unpaid rent collection for April doesn't appear as bad as many expected, 73% of those surveyed expect collections for May to be worse. Only 25% of those surveyed believe most tenants will pay back unpaid rent; 15% think they'll never be repaid, and 56% think they will collect some, but not all, or they are unsure what will happen.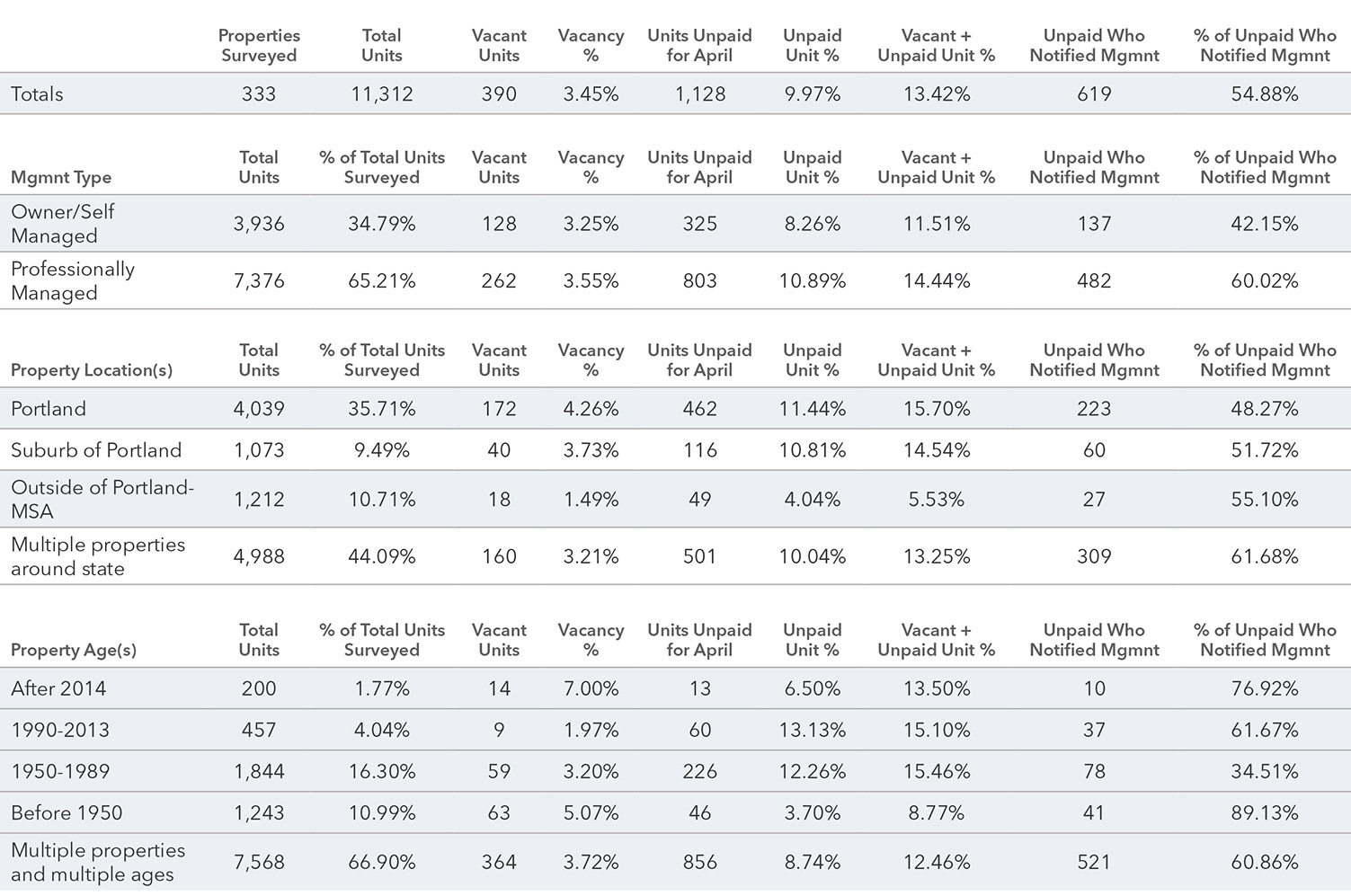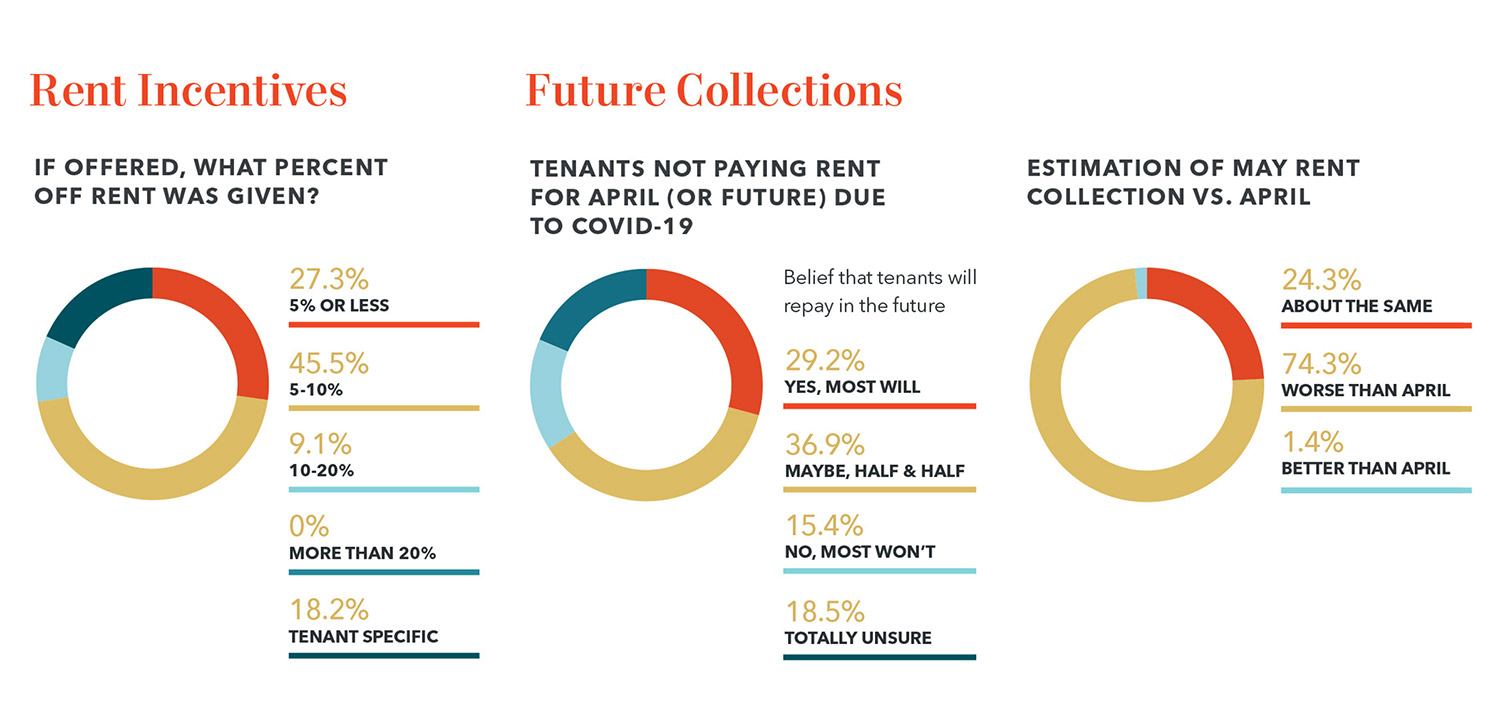 Quotes from Property Owners and Managers
"Mostly likely May will be more difficult for rent collections depending on the timing of unemployment checks and the stimulus checks. And, if these checks are received in time, will tenants use the money to pay rent or decide to go on a payment plan and use us as a bank?" – Property Manager
"We are working very hard to connect with tenants and put them on payment plans. We have three that have made "partial payments," which are in addition to the 13 (who did not pay)."
– Property Owner
"Most tenants who have not paid are waiting for their unemployment checks to start."
 – Property Owner
"We offered a $200 credit to all and another $300 to people with hardship. I'd like to know if other landlords offered any kind of credit. About 1/3rd of tenants took the full $500, and about three refused even the $200. No credits were offered to tenants who already had given notice."  – Property Owner
"My policy has always been to treat tenants fairly… my rental fees are below market… not extreme but 10% or 15%. One tenant reached out and asked about the COVID waiver, and my manager said as long as you provide documentation… they didn't come back. Apart from this, which might come up in May, all is fine." – Property Owner
About the Survey
The goal of this survey was to get a more accurate snapshot of the impact COVID-19 was having on rent collections in the Oregon and Southwest Washington submarkets.
Some of the statistics circulating were either inaccurate to the Oregon and Southwest Washington markets, or were shaping a story of fear for investors and industry professionals. The survey is not to downplay the serious impact of COVID-19, but the statistics can help illustrate that apartment collections are holding strong. This should be viewed by industry professionals (lenders and appraisers) as a short-term blip in an otherwise excellent investment market. It should be taken into account when making short-term decisions that will have long-term impacts for apartment investors.
To receive good participation in a short period of time, we did not set out to create the most comprehensive survey. By allowing multiple properties to be filled out in one survey, some responses included a diverse group of properties and locations in one portfolio. Generalizations were made in those instances. The goal was to take a general look at the statistics so owners and managers could compare their portfolios to what others in the market are experiencing.
Other caveats to keep in mind – the survey ran from April 7- April 10, and some properties have tenants who consistently pay later in the month. There may also be some tenants who are unsure of their financial position at this moment and may still pay rent later in the month.
The survey does not account for tenants who made partial payments. A handful of respondents stated they had a few tenants who made partial payments.
About the Portland Multifamily Investment Team
The survey was conducted by multifamily investment team, Jordan Carter, Clay Newton, and Tyler Linn of Kidder Mathews. The team focuses on assets valued between $2 million and $30 million in Oregon and SW Washington, and they are widely recognized as the leaders in private capital apartment sales across the region.
About Kidder Mathews
Kidder Mathews is the largest independently owned commercial real estate firm on the West Coast, with 900 real estate professionals and staff in 22 offices in Washington, Oregon, California, Nevada, and Arizona. Kidder Mathews offers a complete range of brokerage, appraisal, property management, consulting, project & construction management, and debt & equity finance services for all property types. The firm performs $9.6 billion in transactions, manages 70 million square feet of space, and conducts over 1,680 appraisals annually. For more information, visit kidder.com.